Ahead of his appearance at the Recognition of Excellence Awards, rugby legend Jonny Wilkinson talks about teamwork, leadership and tackling health, and reveals his career highlight (and it's not what you'd think)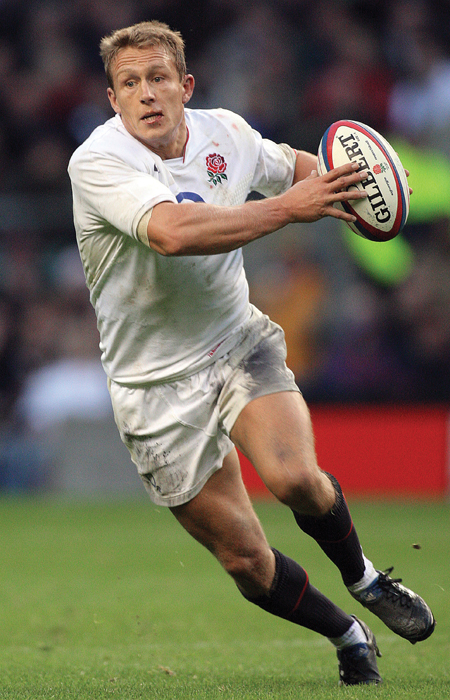 The 2003 Rugby World Cup final. England versus Australia. 26 seconds left. The kick of a lifetime.
Even rugby fans from other nations will have to admit that kick was impressive. The resulting drop goal meant England won the Rugby World Cup for the first time and put Jonny Wilkinson on the map as one of the best rugby union players in the world.
But while the nation was euphoric, Jonny's personal battle continued off the pitch. "I'd ticked all the boxes of my childhood dreams. I had everything", he explained during his speech at last year's Pharmacy Show. "But I've never felt so empty as I did in that moment." Why? When you've achieved all that, what comes next?
Jonny admits that his insatiable appetite for success meant he spent much of his career trying to push himself to improve and refusing to accept any limitations, even when injury threatened his physical and mental health. Quick fixes and getting back on the pitch were Jonny's top priorities, whether his body was ready or not – in his words, "even if I had a six-week injury, I'd be back in 10 days".
Plagued by four years of injury – including "14 on the trot" and costing him 40 games for his country – these setbacks and subsequent mental health problems led Jonny to rethink how he looks after his body.
All about nature
Put simply, Jonny believes that whatever you want to do with your body, you need a foundation of great health – it can't be an afterthought or an add-on.
"Quick fixing for me is a distraction and it doesn't accept the problem, it resists the problem which means it doesn't go away [or it] just keeps coming back," says Jonny. "The only truth to the quality of your life is the quality of your health. If you start anywhere else, if you try to get great health from great fitness or great performance, you end up massively compromising your true potential," he explains. "But if you start with health, then that's the biggest base foundation you can have and out of that, fitness can be as big as possible and performance can be as big as possible."
Therefore for Jonny, respecting your body and putting it first is key. "Whether it's food, water or chemicals – we are what we put into our bodies," he says. "There is a place for medication but we need to enlighten people and explain that there is an alternative – it doesn't always have to be NSAIDs."
For the last three years, Jonny has been a brand ambassador for pharmaceutical aromatherapy brand Puressentiel in France and the UK. "It's allowed me to see that in France things are a bit different because of the way their society has evolved. You go into a pharmacy and you see that a lot of [natural health products are] on the shelves," says Jonny. "There are an awful lot of individual essential oils all lined up and you get the impression that a lot of people would be going in there and selecting their oils because there is this certain knowledge of what works for what and what to combine and recipes for this and that. That was interesting and I realised when I came back [to the UK] that it's not quite the same outlook."
Jonny believes that while lots of people are open minded about natural remedies for their health, they often don't know where to find them, which is where he sees his role and where pharmacy can come in.
A team player
While Jonny has had a change in attitude to his health, it's clear that his attitude to teamwork and leadership remain just the same as when he was at the peak of his sporting career. And despite the world of community pharmacy being poles apart from professional rugby, Jonny says the key elements of a successful team are the same in the two settings.
"Very, very simply put, teamwork and the whole concept of team spirit is caring deeply about what you do, where you do it and who you do it with. And understanding that every individual has the total ability within themselves to choose how they feel about anything," says Jonny. "With that in mind, those that choose to deeply care about what they're doing, deeply invest in the people they're doing it with and respect the environment and the bigger picture of where they're doing it, that's the perfect recipe – it can't work any other way. You combine a team who are all doing that and you get a result that's far bigger than the sum of the parts."
With any team, there may be times when they aren't achieving the success they're capable of and Jonny says that a feeling of deceleration among the team would be one of the main warning signs.
"To get things moving as a team it takes a lot of effort and after that the ball is rolling and everyone is chipping in and learning and using that learning to see more and more opportunity, you get constant acceleration," Jonny explains. "When that decelerates and slows down – what I mean by that is that the sense within the team that things are slowing down and becoming more difficult – it has to be because collectively or individually people are no longer seeing opportunity, they're seeing problems instead of opportunity."
If team members are seeing opportunity and are working towards it and moving forwards, then that builds excitement, which Jonny says is a key factor in motivation and team building.
"Wherever there's opportunity, there's excitement. If people are excited about what they're doing, the team is working well. If you're excited about who you're working with, the team is working well. If you're excited about the business that you're turning up to and the company, the team is working well. If that excitement goes, something's off," Jonny explains. "Excitement is something everyone can really commit to and that's everyone's responsibility. That's the whole thing about the team, is that you don't wait for others to do it, you do it and lead the way."
Taking the lead
Throughout his career, Jonny has captained several of the teams he's played for and has been under the direction of some impressive coaches. And while he says that you can "never decide if you're a good leader, other people decide if you're a good leader", the thing he's found most inspiring from other people has been them "providing a living example of what is possible". This means that rather than telling people what to do and pushing them forwards, he believes leaders should go there first and highlight the different paths to achieve something.
Jonny says: "The analogy I have is that if you're stood on a step and the next step down is just darkness. You have no idea whether it's a 100-metre drop or a two-centimetre drop. But when someone makes that step and they light up where that next step is, they show you what's possible."
With great leadership comes effective communication and to be a good communicator, Jonny believes that transparency is essential. "When you're telling people that they need to get excited and you're not someone who can get excited like that, then you're only providing an example of confusion and you create frustration," he says. "But if you're transparent, in that your words align with how you're feeling, that deep honesty and that clarity and transparency is what makes people feel comfortable and I think that's the key… I'd say that through your language you have to be the change that you want to see."
An illustrious career
Most people will think they know what the highlight of Jonny's career is but he says that actually, his boring answer to that question "would be that none of those moments were any better than any others. Otherwise, if one of them was amazing, I'd always come back saying 'I wish I could be there again'."
The real answer? "The best moment of my life and the best time of my career, if I had to choose, would be playing alongside my brother," says Jonny. "We shared the same field playing for Newcastle quite a few times and those were the moments where I felt most connected and just felt like everything was just how I wanted it to be."
While Jonny's professional rugby playing days are behind him, he's taking the opportunity to put his teamwork, leadership and communication skills to good use. "I get to work with some of the players on the England rugby team and get to coach them and I enjoy that," he says, although his main focus is off the pitch.
Jonny says: "Natural health and better health would always be top of my list because of the same answer we said at the start. There's nothing else to life. That's where all the potential lies."
Jonny is also focusing on mental health this year – a topic close to his heart. "I have a mental health foundation which has been in research for a year and we're moving into our second year of semi-research and semi-activity and that's where all my efforts are going."
Enter the RoE Awards today!
If you make the final shortlist then you, and a guest of your choice, will join the TM team and with special guest presenter Jonny Wilkinson at the Awards ceremony on 20 June at London's five-star Dorchester Hotel. You'll be treated to an all-expenses paid, three-course meal with champagne reception and get your hands on some fabulous prizes! Entries close on 28 March and time is running out, so what are you waiting for? Enter NOW!
• Jonny Wilkinson is a brand ambassador for Puressentiel, the leading natural plant medicine company and makers of a range of clinically proven products formulated with essential oils. Its range of Muscle & Joint products can support exercise strategies and will maximise muscle health at any age and fitness level. The range includes the Muscles & Joints Roller, Gel, Soothing Balm and eight-hour pain reliever Heating Patches.
Follow: @puressentielUK Visit: puressentiel.com.
If people are excited about what they're doing, the team is working well