TM turned London purple and pink with pride this June as we celebrated pharmacy support staff from across the UK at the sixth annual Recognition of Excellence Awards
Grosvenor House Hotel on London's prestigious Park Lane provided the impressive backdrop for this year's Recognition of Excellence (RoE) Awards – the only national awards exclusively for community pharmacy support staff.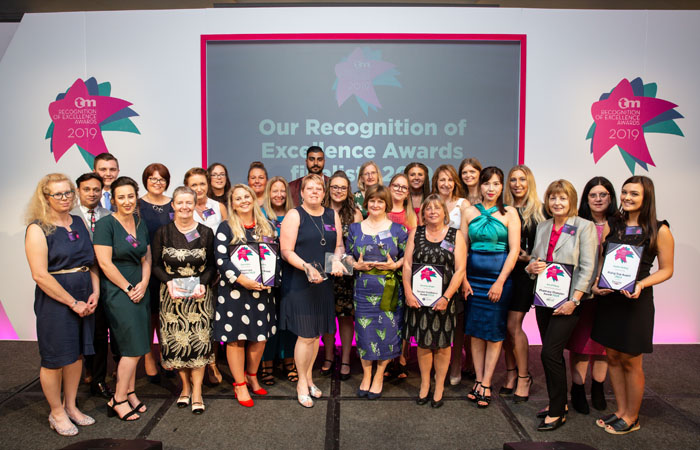 Hosted by Training Matters (TM), the Awards were a stand out success and it was all down to the incredible stories of commitment, passion, dedication and care from our pharmacy support teams.
The outstanding quality of entries – which never fail to spark pride in the pharmacy community – gave the judges a difficult task in selecting the final 27 worthy winners. Our fantastic finalists truly are the best of the best and go above and beyond the call of duty to support their customers, patients, the wider healthcare team and their communities.
Keep on smiling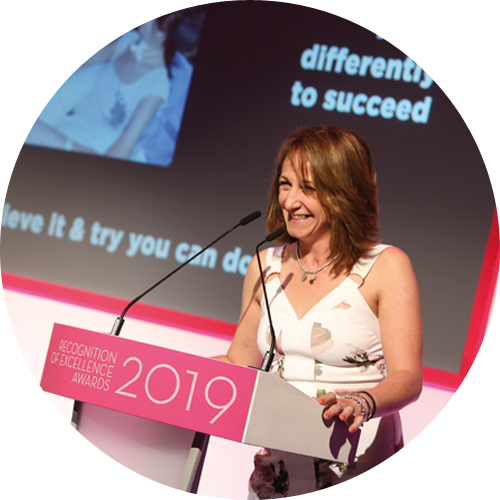 This year's guest speaker was the inspiring Kate Allatt (pictured right) – a stroke survivor and campaigner. She took to the stage to kick off the Awards with an insightful and entertaining speech that told her story and stressed the important role pharmacy can play in helping stroke survivors post-discharge to be the best that they can be.
Kate highlighted the benefits of small acts of kindness towards pharmacy customers and patients, such as smiling at them, holding the door open, asking them how they are – things that she said may seem so little but can make a huge difference.
Her messages reminded everyone to work together, support each other and keep on smiling.
Read more about Kate and how pharmacy teams can aid diagnosis of young stroke through headache awareness and support young stroke survivors.
Shining stars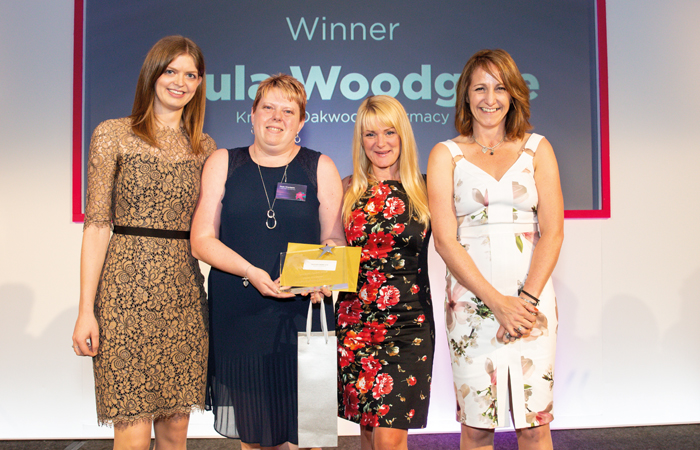 Paula Woodgate, pharmacy manager from Knights Oakwood Pharmacy in Birstall, Leeds was the star of the show. Pictured right with Helena Beer, editor of Training Matters; Emma Charlesworth, head of marketing at Numark and special guest speaker Kate Allatt, she took home highly commended in the Healthy Living Advisor and Innovation categories, as well as winning the Outstanding Contribution Award. She was also the winner of the coveted Spotlight Award, which named her our overall support staff member of the year. Paula is a real powerhouse of enthusiasm for pharmacy, driven by a desire to do the very best for her customers, patients and team. Her story is uplifting and inspiring and demonstrates just how critical the role of the pharmacy support team is both in store and within the wider community. According to Mike Holden, RoE judge and principal associate of Pharmacy Complete, Paula could have come in the top three in every category based on her outstanding vision, effort, passion, leadership and delivery.
Christine Bateman from Well Pharmacy, Sandbach Commons in Manchester took home the Customer Care Award, but RoE judge Haroon Mahmood said she should have taken home a Pride of Britain Award too after showing outstanding respect, dignity compassion and the utmost care.
The Service Excellence Award was won by Claire Grigor from Right Medicine Pharmacy in Haddington, East Lothian, after she impressed the judges in making it her mission to support the elderly, especially those with dementia.
Cora Quigley from Hughes Pharmacy in Newtownbutler, Northern Ireland was named Infant Care Champion for her outstanding commitment to making her pharmacy a family-friendly place and engaging children with their health.
Louise Davies took the Counter Intelligence Award back to LloydsPharmacy in Bexhill-On-Sea, East Sussex, after impressing the judges with an extensive list of examples of where she's been able to apply her OTC knowledge – from child oral health to joint pain and beyond.
The Healthy Living Advisor Award went to Tiffany Clark from Combs Ford Pharmacy in Stowmarket, Suffolk for her innovative and wide-ranging ideas for promoting healthy living both inside and outside the pharmacy walls and making it accessible for all.
The Pharmacy Champion Award went to Shasha Eva Peng from Kellaway Pharmacy in Bristol, who has made an incredible difference in promoting strong health messages to the community and linking back to pharmacy to ensure it is seen as a real pillar of support to the community.
Kirsty Lloyd from Right Medicine Pharmacy in Stirling won the Retail Skills Award with her go-getting approach, skills in upselling and successful remerchandising of 10 stores, which was transformative for the business.
The Innovation Award went to Amy Harper from Knights Crossfell Pharmacy in Middlesbrough who spearheaded an invaluable flu vaccination service for local teachers and helped initiate a text message service for prescription collection and upcoming services.
Conor Doyle from Boots UK in Silverburn Shopping Centre, Glasgow took home the Rising Star Award after judges praised his impressive list of qualifications, commitment to building positive relationships with customers and ability to ensure the dispensary and shop floor is running smoothly, all within 18 months.
Fiona Spraggins from LloydsPharmacy in Mildenhall, Bury St Edmunds, Suffolk won the Team Leader Award after turning around a store described as "at crisis point" with a clear vision for the future, holistic approach and focus on inspiring her team.
Speaking at the end of the Awards, TM's editor Helena Beer said: "The efforts that our pharmacy staff go to on a daily basis for their customers, and each other, are simply inspirational and I'm so proud and humbled by what you've all achieved. I hope today acts as a small token of appreciation for the work that you do."
For a full list of finalists, please click here.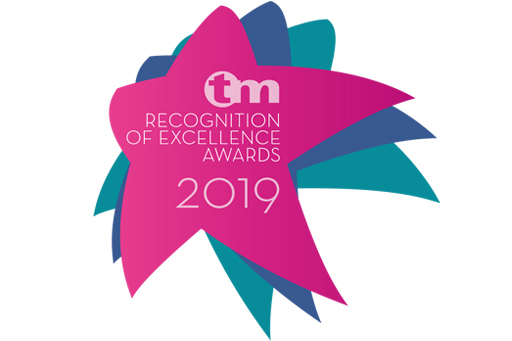 Take action!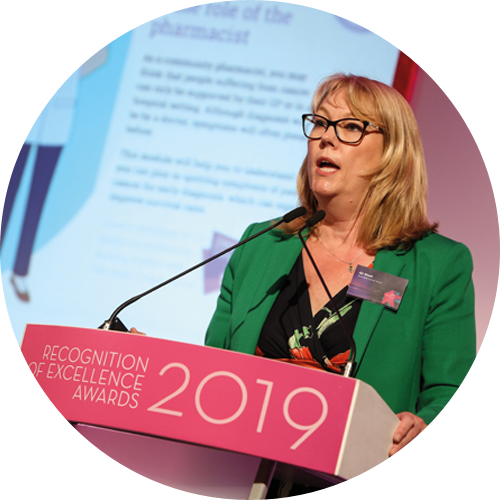 TM once again welcomed Pancreatic Cancer Action (PCA) as the RoE Awards official charity partner in order to build on the impressive partnership that started in 2017.
Ali Stunt (pictured right), PCA's founder and CEO – herself a 12-year survivor of pancreatic cancer – delivered a fantastic speech celebrating the work PCA has done with community pharmacy over the last two years.
She championed the role of pharmacy teams in helping to spot signs of the condition and aid early diagnosis, such as recurrent indigestion or lower back pain, and highlighted the valuable training resources PCA have made available for pharmacy teams to improve their knowledge of pancreatic cancer.
During the course of the event and in the days following, £1,855 was raised for the charity's invaluable work. TM and PCA thank everyone for their kind donations. Find out more about Pancreatic Cancer Action.
Don't take our word for it...
Check out some of the fantastic responses we've received and messages of congratulations to our finalists:
"Just wanted to say we really enjoyed the awards yesterday, it was a pleasure to be involved. Congratulations on putting together a ceremony to reward such inspirational people at the coalface of pharmacy." Barry Hopkins, channel controller pharmacy wholesale, Bayer
"Proud to be one of the judges of the RoE Awards. Blown away the dedication of pharmacy teams – so many moving stories and thank you TM." Ade Williams, lead pharmacist at Bedminster Pharmacy, Bristol
"Just to say thanks for a great afternoon – always love the TM awards and it didn't disappoint! Fab to see our members/pharmacies be recognised in this way, it means a lot to them." Alex Phelps, head of marketing, Avicenna
"The event was productive, inspirational and great fun to boot!" Martyn Buckley, director sales and marketing activation (UK), Infirst Healthcare
"Thank you for a lovely day yesterday and for allowing me to support you by judging. Great to be a part of something so uplifting." Myra Battle, Suffolk LPC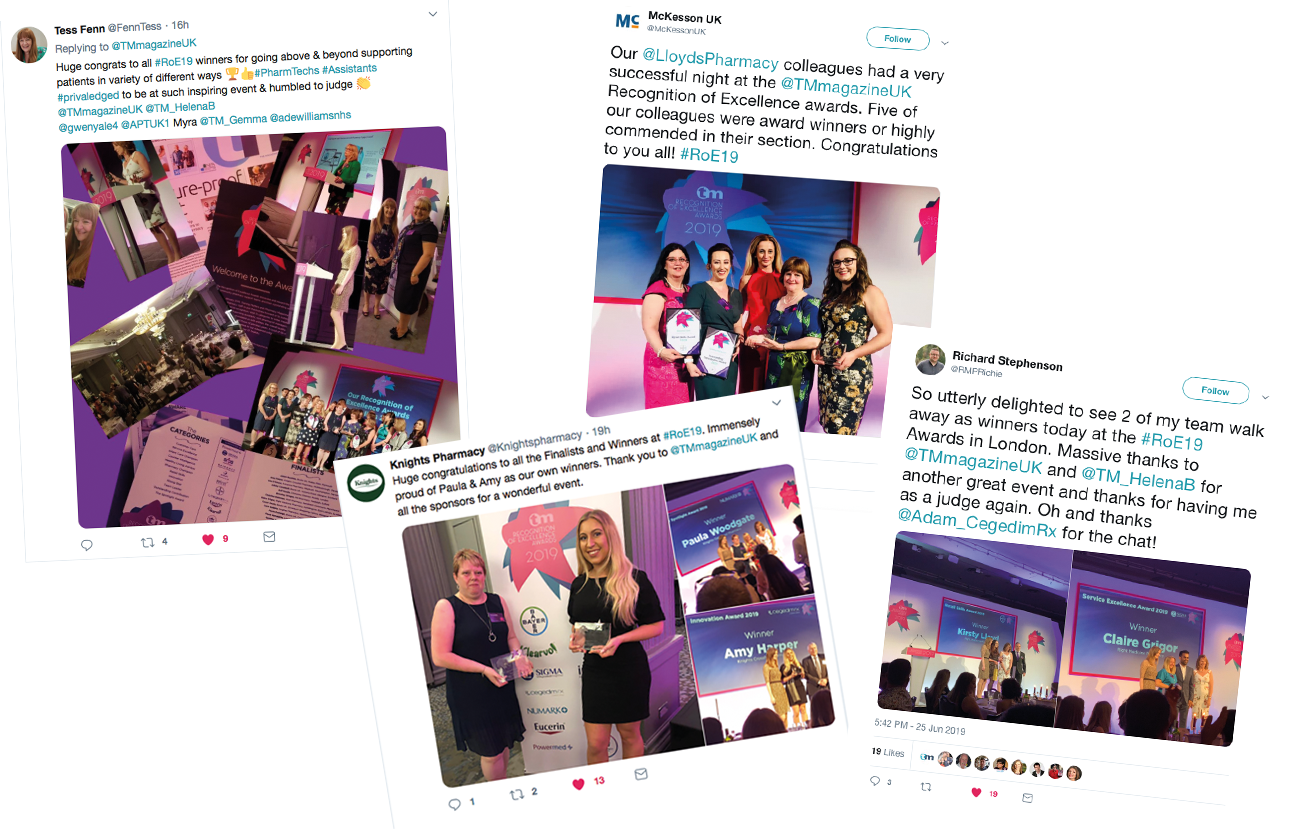 A big thanks to all involved and of course to all our sponsors: