A woman of many talents and unrivalled commitment to her role, Lesley Vernoum-Norman has enjoyed impressive levels of success during her 42 years in pharmacy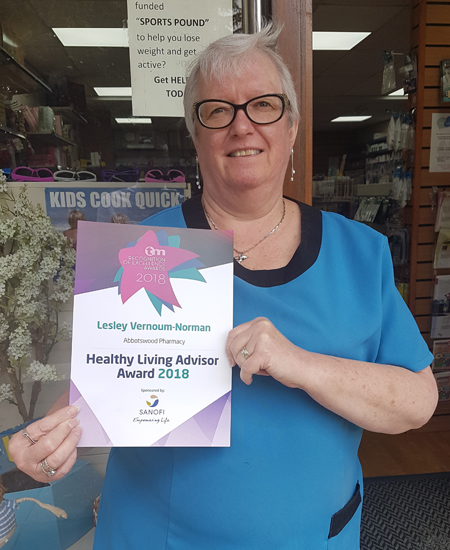 Most people spend their big birthdays doing something indulgent – a spa day, perhaps, or a posh dinner out. But not Lesley Vernoum-Norman. For her 60th birthday, she chose to attend a training day to become a health champion. At an age when many are slowing down – and 42 years after she started working in pharmacy – Lesley continues to be a force of nature, keeping Abbotswood Pharmacy in Bristol high in South Gloucestershire's quit rate charts, despite her being the only stop smoking advisor in her store.
The dispensing assistant is also the pharmacy's safeguarding lead and EPS champion, while juggling responsibilities at home for her elderly parents and grandchildren – the latter being the reason she was unable to attend the Recognition of Excellence Awards ceremony.
Lesley has seemingly endless patience, is often complimented for her cheerful yet assertive manner, and uses her knowledge, expertise and empathy to provide support and advice to all who walk in the door. Lesley's nomination for the Healthy Living Advisor Award, submitted by pharmacist Mejebi Eyewuoma, included testimonials from patients – many of whom call her "the chemist lady" – and the local medical centre and veterinary practice, and earned her Highly Commended in the category. Lesley loves the variety of her job, which sees her providing a wide range of services, and says: "Every day is a learning curve."
Well's superintendent pharmacist and Awards judge Janice Perkins commented: "Lesley has had an amazing career… she has fully embraced all the new roles within pharmacy and takes every opportunity to develop and increase her knowledge, which she puts to use in her local community… nothing is too much trouble." Pharmacist and fellow judge Sarah Coffi n added: "What a woman… what an impact she has made. Don't retire yet, Lesley!"