You may have heard the news that pharmacy funding has been cut in England. But what has happened and why? This article, the first in a new series, explains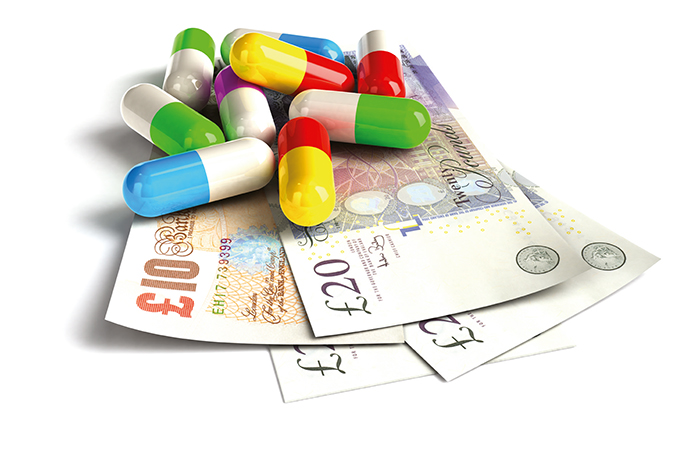 Community pharmacy owners are contracted to work for the NHS and receive payment for providing specified services in what is commonly called the pharmacy contract. In fact, it's more correctly known as the National Health Service (Pharmaceutical and Local Pharmaceutical Services) Regulations 2013. The amount of money the Government (through NHS England) is willing to pay for these services is laid out in the Drug Tariff, which includes details on reimbursement for drugs supplied against dispensed prescriptions and remuneration for services that the pharmacy provides.
It's the role of the Pharmaceutical Services Negotiating Committee (PSNC) to negotiate with Government representatives the contents of the contract and the payment that pharmacy owners receive. The PSNC is led by chief executive Sue Sharpe and the board comprises elected representatives of independent and multiple pharmacy owners throughout England.
This agreed annual payment is called the global sum and is the total amount to be distributed to all the pharmacies in England for that financial year.
The problem
In a significant change from the normal negotiating process, in late December last year, an open letter to Sue Sharpe from the Government's chief pharmaceutical officer, Keith Ridge, explained that the global sum, which is currently £2.8 billion, would be cut by at least six per cent to £2.63 billion for the financial year 2016/17 as of October 2016.
This, explained the letter, was part of the NHS' need to deliver £22 billion in efficiency savings by 2020/21 and, as pharmacy was integral to the NHS, it had to contribute to these savings. Not only was there no negotiation involved, but it came at the busiest time of year in community pharmacy – just before Christmas – and was published in the public domain on the Department of Health website.
The response
Pharmacists and pharmacy owners were shocked and outraged in equal measure, as the six per cent cut represents an average reduction in income of approximately £14,500 per pharmacy. And while the global sum sounds like a huge amount of money, when it is divided between all 12,000 pharmacies in England, it means an average of £220,000 per pharmacy per year for all the NHS work that is undertaken.
From this, a pharmacy owner has to pay for all the overheads (rent, rates, electricity, wages, pension, IT costs and much more) and still make a profit. Considering that some owners may have bank loans if they bought the pharmacy or to pay for expensive refits, then it leaves little room for any profit.
Why is this happening?
The Government wants to make changes to the community pharmacy contract as it believes that pharmacies can work more efficiently, "without compromising the quality of services or public access to them", and because it wants to develop a "clinically focused community pharmacy service that is better integrated with primary care."
Another issue the Government highlighted is that it believes there are too many pharmacies, explaining that in some locations 40 per cent of pharmacies are in a cluster where there are three or more pharmacies within a 10 minute walk.
The Government also believes that pharmacy needs to make use of technology and get up to speed with customer trends to offer services that people use from retail outlets. This includes the possible use of 'hub and spoke' dispensing arrangements and the need to offer patients more choice about how they order and collect their dispensed medicines, including home delivery or click and collect.
Hub and spoke is a system where a central dispensary (the hub) assembles prescriptions and they are distributed back to the spokes (individual pharmacies) to be dispensed to patients. It is believed that not only will this free up pharmacists' time to enable them to be more clinically focused, but that there will also be cost savings and improved safety.
Click and collect, which is very popular with customers of online retail outlets, would enable patients to order their prescriptions online and collect from their designated pharmacy.
Consultation
The Government has announced that it is holding a consultation on its proposals with public groups, as well as the following organisations: Pharmacy Voice, the Royal Pharmaceutical Society, the Association of Pharmacy Technicians UK and the General Pharmaceutical Council. The consultation period will run until 24 March 2016.
Developments
Since December, health minister Alistair Burt has revealed that he expects the changes will mean that 1,000 to 3,000 pharmacies will close.
In response to the proposals, pharmacists started an online petition on the Government website: Stop cuts to pharmacy funding and support pharmacy services that save NHS money. The petition has already received a Government response, which reiterated points already made in the letter, and at the time of publishing, it had been signed by 43,933 people and was making headway to the next milestone of 100,000 signatures, after which the issue will be considered for debate in Parliament.
The National Pharmacy Association has pledged to use its financial reserves to help fight the cuts and has launched the #lovemypharmacy campaign, which encourages pharmacy teams to showcase examples of the good work they do on a daily basis and to help gain recognition and public support for community pharmacy.
Health minister Alistair Burt has revealed that he expects the changes will mean 1,000 to 3,000 pharmacies will close