Pharmacy life
Caring through Covid-19
Accuracy checking pharmacy technician and supervisor Aleksandra Hajdecka is passionate about her role caring for the community – an important attitude to have during the current Covid-19 pandemic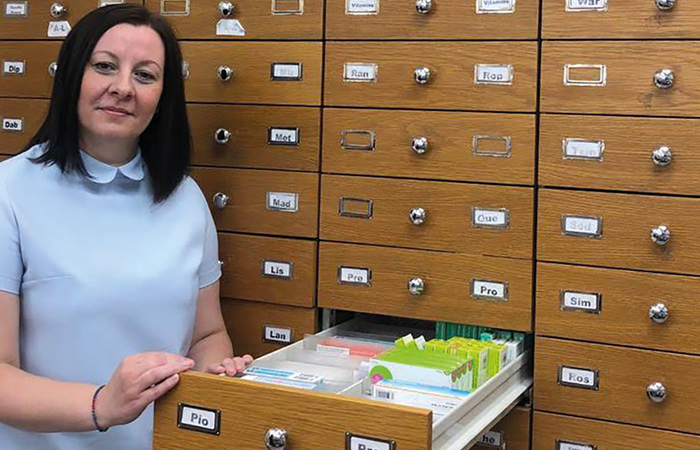 Aleksandra Hajdecka began her pharmacy journey as a part-time medicines counter assistant while studying an English language course, after her move from Poland in 2005. Almost 15 years on, and a wealth of training later, Aleksandra is a qualified accuracy checking pharmacy technician (ACPT) and supervises a team of eight people.
Working for Simmons Pharmacy in Cockfosters, Aleksandra's daily tasks are varied. She explains: "My current role is dispensing and checking prescriptions, obviously under the authorisation of a qualified pharmacist. I'm also responsible for supervising the team, including managing their schedule and training them."
The Covid-19 pandemic caused Aleksandra's already busy workload to skyrocket. "I've been in pharmacy for 14 years and I cannot compare this to any other situation – it's been very crazy," she says. Rising to the challenge, Aleksandra says the pharmacy has achieved a "new normal", doing all they can to support the community.
Making a change
After completing a master's degree in economics and agriculture and moving to the UK, Aleksandra landed herself in a completely new profession. "I had some biochemistry knowledge from when I was at university, but no other knowledge I can compare," she explains. Completing her medicines counter assistant course in 2007, Aleksandra says she "learned so much" and was given the opportunity to do lots of additional training, which she relished. "In 2011, I completed the dispensary assistant course. This was a big step from the medicines counter assistant role," she says. But Aleksandra didn't stop there, later completing her ACPT certificate and proving to be a big asset to her team. "I was so happy I managed to do the ACPT course," says Aleksandra. "The pharmacist has more time not only to do prescriptions, but other things like vaccinations, so it has provided relief for the pharmacist as well."
Clearly passionate about training and constantly expanding her knowledge and skillset, Aleksandra is also a level 2 stop smoking advisor. She says: "Being given the opportunity to do all these courses is extremely important for the team, as is being supported by the pharmacist, especially as all the courses are done on top of your normal work." Aleksandra's hard- working mentality, supervision, and extensive knowledge gained from training, has helped the pharmacy cope with the Covid-19 pandemic.
We had one customer, appreciating the work and the service we provided, who brought us a cake!
Community care and Covid-19
From the outset, Covid-19 saw the pharmacy caring for regular customers, but an increase in new customers requiring prescriptions made the pharmacy extremely busy says Aleksandra. Focusing on safety in store, the team only allow a certain number of people in the pharmacy at once. "We [ask] them to call back for prescriptions to minimise this," she explains. "We had to put lines out in the pharmacy to distance the customers two metres from each other. We were looking after the customers, asking them to move from one corner of the pharmacy to the other, and others were queuing outside."
Regular customers have looked to the pharmacy for reassurance and a friendly face during what is, for many people, an uncertain and scary time, and Aleksandra is proud to be able to support them. "It's a community in our pharmacy – many of them we have known for many years," she says. "Our regular customers were calling us, even with small problems they had, asking how they should react." The support the team is able to offer has been widely appreciated in the community, with many customers coming in to say thank you. Aleksandra says: "We had one customer, appreciating the work and the service we provided, who brought us a cake!"
Focus on the frontline
Despite this success with supporting customers, pharmacy life during the pandemic has not been without personal and professional challenges. For Aleksandra, one of the main concerns she had was having to send her son to school so that she was able to go to work and support her community. "At the beginning, it was difficult when everybody was scared and told to stay at home, but you're still taking your child to school," she says.
Within the pharmacy, stock shortages brought their own problems, with hand sanitiser, paracetamol and thermometers in short supply, demand going through the roof and prices increasing. "The most shocking thing for me at this time was that paracetamol was hit by the shortages over the counter and then experienced price increases by the suppliers," explains Aleksandra.
With their prime position on the healthcare frontline, community pharmacies have been able to help and advise customers face-to-face during the pandemic, when other parts of the healthcare system have not been able to. "Customers are coming in with skin rashes or other problems. This has increased when they cannot see a GP face-to-face, so they are coming into the pharmacy," says Aleksandra, who has been able to draw on her experience and training to offer support. "I give advice on what products they should use, especially for children and babies, and I advise on eczema and dry skin problems. I enjoy helping customers, not only over the phone, but face to face, providing advice for over- the-counter medications."
A team effort
Aleksandra's team have been a source of strength throughout their fight against Covid-19. She says: "We are a very good, strong team, which I think is very important for the pharmacy. We get on very well and we support each other. There are nine of us and each of us specialises in different things, so when we come together, we make a great team."
Aleksandra says that the team has persevered and remained positive, especially when two team members had to self-isolate. "We support each other, so when someone has to go and isolate, we have to be there for each other," she explains. "It was exhausting at some points, but we knew we had to be there for the patients."
The team was hit by the lack of personal protective equipment (PPE) at the beginning of the pandemic, which Aleksandra admits was "scary when the whole country was asked to stay at home to protect the NHS and save lives, and we were on the frontline". Aleksandra's manager went above and beyond and sourced equipment for the team, ensuring they were protected. "Our boss has managed to get us the face shields, masks, gloves and plastic aprons that we change every day, or sometimes twice a day," Aleksandra explains.
Being given the opportunity to do all these courses is extremely important for the team
Multidisciplinary work
Aleksandra enjoys being a part of the wider healthcare community and being part of a multidisciplinary team. "I do enjoy speaking to other healthcare professionals, and when hospital pharmacists are calling us when our regular patients have been taken to the hospital, I enjoy giving them the right information."
Looking to the future, she says the world of hospital pharmacy appeals and "at some point, I would like to be an accuracy checking pharmacy technician in a hospital". But at the moment, Aleksandra is loving her varied responsibilities in community pharmacy, especially her ACPT role, which she says is "a really enjoyable part of my work".
With increased prescription numbers and workload in the current healthcare climate, Aleksandra is a key part of the community effort in tackling Covid-19 and she's fully committed to supporting the continuing success of her pharmacy.
Time to deliver
Deliveries have been crucial for shielding and self-isolating patients. Aleksandra says the team struggled at the beginning, when lots of customers were scared to come to the pharmacy and were asking for their medicines to be delivered. However, the pharmacy received volunteers from the public to help with the increased volume of deliveries, which "was a really big step" forward in their ability to help all their patients, whether they were shielding or self- isolating.
Always an integral service, Aleksandra explains that it is essential for deliveries to continue at this capacity for the time being. "I hope this stays for a long time. It is needed, especially for all the patients who are over 70 and have been asked to stay at home, so I hope this service will carry on," she says. And who knows, there might be some learnings from this scenario that can be taken forwards to improve the pharmacy's service after the pandemic.
Sponsored
Sponsored education
Safely recommend the most effective laxative for every customer with constipation
Sponsored education
Bust the myths around acne causes so you can recommend effective products and self-care advice
Record my learning outcomes