Embodying community spirit
Pharmacy life
Embodying community spirit
The team at Eldene Pharmacy always find the positives, whether it's celebrating each other's achievements, their relationships with their customers or the positive impact their work has in the community
In the heart of a small housing estate in Swindon lies Rowlands' Eldene Pharmacy. Serving its elderly demographic by working closely with the doctors' surgery next door, it's a place where people come to pick up their medication, naturally, but it's also a place where there is always a host of friendly-faced, eager team members ready to help any customer who walks through the door.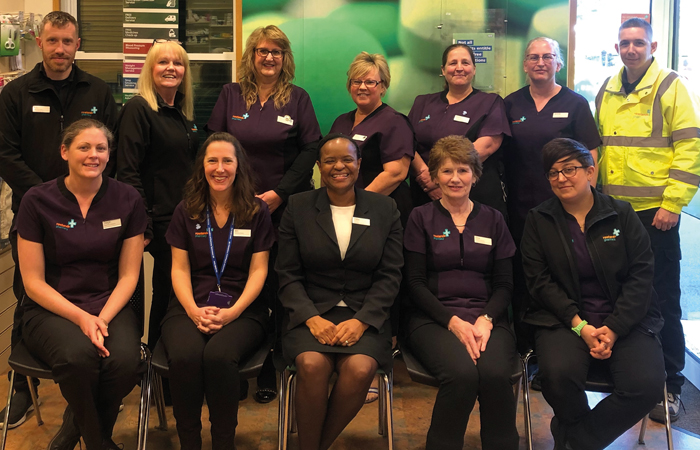 Tight-knit team
Led by pharmacist Tebogo (Tebby) Basupang, the team includes accuracy checking pharmacy technician Anna Hazelden – a long-time friend of TM – pharmacy technician Jennifer Williams, dispensing assistants Donna Porter, Diane Dougherty, Stephanie Boulden and Carole Core, medicines counter assistants Kayleigh Cornford and Jennie Foster, and last, but certainly not least, delivery driver Nicholas Purnell.
"I think we've got a really good pharmacy team in here – not just one individual – and I think Tebby is very well supported. We all go that extra mile, if somebody has a problem," says Anna.
The team are extremely supportive and complimentary of each other's hard work. "Donna, Kayleigh and Jennie who work on the front, they are amazing at remembering customers. Literally, somebody will walk in and they'll have their name and their bag off the shelf before they're almost at the counter," says Jennifer.
This mutual respect also helps to quickly initiate a new team member into the well-oiled running of the pharmacy. "It's a really nice friendly team. I've been here about a year and six months now and they've always made me feel welcome, from my first day," says Kayleigh. "We all muck in and help each other."
I think we've got a really good pharmacy team in here, not just one individual
Part of the family
This closeness isn't limited to the pharmacy team, it's extended to the customers too, and goes beyond just remembering their names. Anna, who has worked in pharmacy for over 42 years, has developed meaningful relationships with the customers after such an impressive amount of time in the sector.
"I've worked here a long time so they're like family members to me," she says. "A lot of people feel like they can come and talk to me. As a community pharmacy it's really important. It's the trust; they trust us, and you have to earn that trust."
These relationships benefit the support that the pharmacy can give to its customers. After becoming a delivery driver seven years ago, Nicholas has made many important interventions on his rounds, as knowing his patients well means he's more aware of when there might be a problem. "The patients go out of their way to form a bond," says Nicholas, and this can make a huge difference to their quality of life, especially if they live alone. In the past, Nicholas has found customers who have fallen in their homes and stayed with them whilst calling Homeline – Swindon Borough Council's home emergency response service. He also alerts the pharmacy when he feels concerned about a customer, meaning the team can make important interventions if necessary.
Promote and protect
These important interventions can happen within the pharmacy too. Donna uses the healthy living zone, which is located on the counter, to engage customers in conversations about their health. She collates leaflets, posters and interactive materials to ensure the zone is as engaging as possible, as having such materials is one of the best ways the team has been able to initiate conversations with people about their health. "With the stop drinking one, we had scratch cards. The more interactive things are the better, and if people are up for it, they'll have a go," says Donna.
The next public health campaign the pharmacy will be involved in is Public Health England's 'Keep Antibiotics Working' campaign, and they are keen to push the message that antibiotics do not always need to be used for minor ailments and that overuse can lead to antibiotic resistance.
The pharmacy also supports its customers through the wide array of services it offers including smoking cessation, blood pressure checks, the New Medicines Service (NMS), weight management and flu vaccinations, to name a few. This year, the annual flu vaccine service has been a challenge, as Tebby explains, "we had to clean the consultation room between every single patient and wear extra PPE. It was a slower process". Despite these additional considerations, the team took the challenge in their stride, as has been the case with other services too.
The pharmacy also gets a lot of interest in its smoking cessation service. Diane is a stop smoking advisor, and as a previous smoker herself, relates to customers wanting to quit and tries her best to support them. "People come to you as a friend and I never stop trying to give them support," she says. At the beginning of the year Diane had four people in the pharmacy's smoking cessation programme. As a result of the pandemic, she adapted her practice to provide support and guidance over the phone, as well as having socially-distanced chats. She hopes to continue helping customers in the new year, especially if restrictions lift and mean more face-to-face support can be on the cards.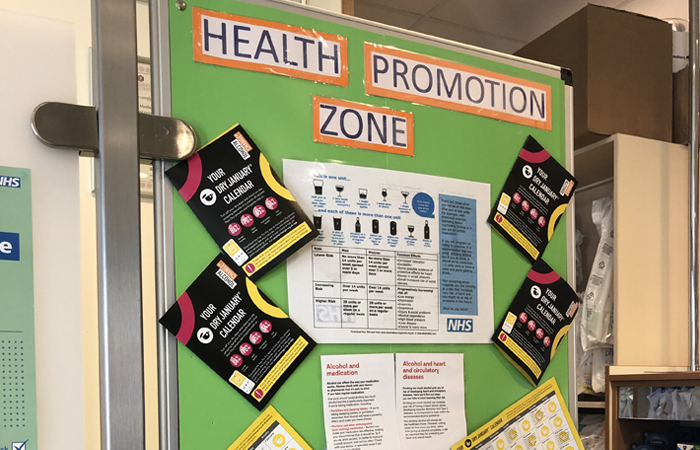 What's new?
The introduction of Rowlands' new PillPouch scheme has been another thing for the team to get their heads around. But the process is very safe in the hands of Jennifer, who is extremely knowledgeable on the subject of this automated monitored dosage system (MDS), and takes special care in seeing how the new regime can benefit the pharmacy's customers.
The pharmacy has discovered that one of the best advancements with PillPouch has been that the individual dose pouches can be torn off for ease of use, which helps people in taking their medication when out and about. The introduction of the scheme is also of huge benefit for patients who find traditional MDS trays difficult to manage, such as those with arthritis, as the pouches have simple perforations to allow for easy access.
Although change can be challenging, the pharmacy has continued to adapt, making the switch to off-site dispensing and adopting the Clinical Pharmacy Consultation Service (CPCS) earlier this year. The pharmacy has really seen the benefits of the CPCS service already. In one instance, for example, a student with diabetes had to come 40 miles home from university due to the pandemic and hadn't had the time to sort out her medication so she was very concerned. "Using the CPCS, she was able to come here with her mother and we were able to dispense the next lot of insulin for her," Tebby explains.
Pandemic perseverance
The Eldene Pharmacy team continued to provide excellence service to customers and patients despite the challenges that Covid-19 created. "It was hard, but we fought the battle very well," says Anna, describing the initial wave of the pandemic hitting in March. Like most pharmacies, many changes had to take place to make things safer for team and staff, including wearing PPE and ensuring social distancing. But, unsurprisingly, the team didn't dwell on the hard times for too long and were keen to share some positive moments too. The pharmacy received a lot of local support, such as volunteers to help to manage the deliveries and the queues outside. "Everyone stepped in to help," says Anna. "The atmosphere in here has been absolutely amazing and everybody has gone above and beyond. It's amazing to work in such a great team when you need that extra support, whether it is the pharmacy, emotional support or help with additional information."
And it is not just the team that has felt it. Responses from customers have proven how hard the team have worked too. They have received lots of thank you cards, letters and goodies. "One gentleman shouted: 'thank you very much for staying open and keeping me alive!'," recalls Anna. "You get quite emotional because it is an emotional rollercoaster. It's not just a job, it's doing something that's a pleasure, really. And if you can help people, at the end of the day, what greater job satisfaction is there?"
To continue improving safety, the pharmacy has now introduced a text messaging service for customers who collect their medication so they know exactly when to come to the pharmacy for their prescriptions.
If you can help people, at the end of the day, what greater job satisfaction is there?
A professional focus
As well as being the pharmacy's accuracy checking pharmacy technician, Anna Hazelden is chair of the Swindon branch of the Association of Pharmacy Technicians UK (APTUK) and has been an APTUK member for over 30 years.
The Swindon branch was officially launched in 2014 and holds quarterly meetings, inviting guest speakers to cover such topics as anticoagulants, diabetes, asthma, revalidation, patient safety and falls and prevention. The branch also holds close links with their local Centre for Pharmacy Postgraduate Education (CPPE) tutor and the Swindon and District branch of Parkinson's UK.
The branch meetings are open to all pharmacy technicians, pre-registration pharmacy technicians and support staff, and Anna hopes to continue to expand the branch's membership. She has already recruited Jennifer Williams, her team's pharmacy technician, who has also become a fully fledged APTUK member. Due to Covid-19, the quarterly meetings have had to be suspended, but the branch has adjusted, joining national webinars and holding virtual branch meetings to keep in contact with members.
Anna is extremely passionate about the numerous benefits of being part of the Association. "Attending branch meetings is an excellent opportunity to gain educational training and keep up to date with all the latest developments. It is a great opportunity to network with others from various sectors," she explains. "To be part of the professional leadership body means you are celebrating your professional status. It is important to have the information and the resources to perform your role as a pharmacy technician to work to the top of your licence."
Sponsored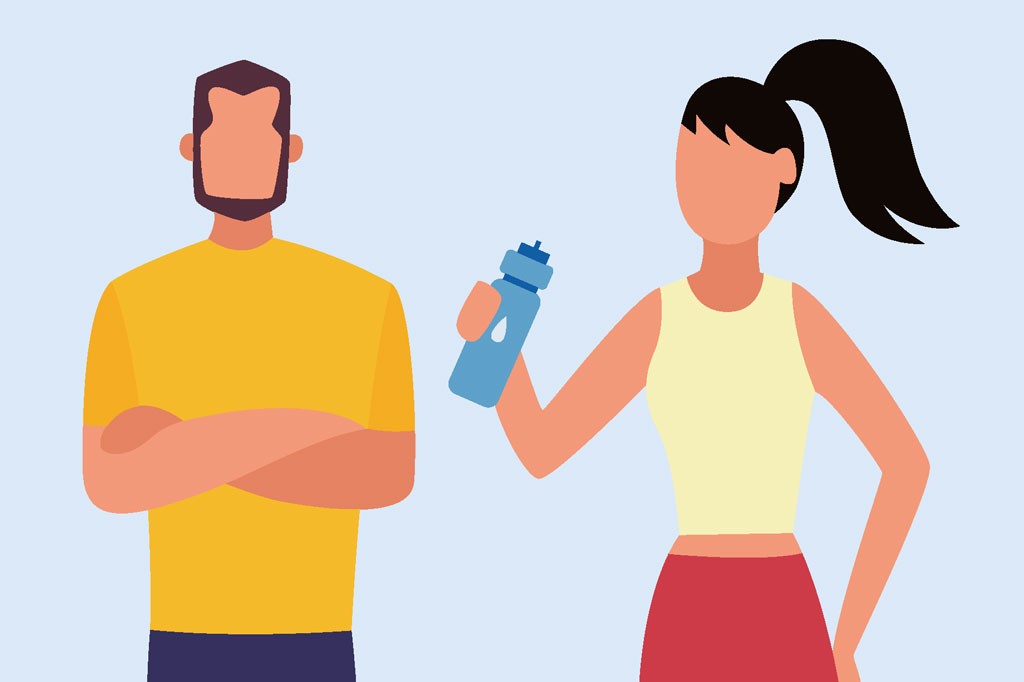 Sponsored education
Understand the important role oral rehydration products play in helping prevent dehydration after illness
Sponsored education
This short video explores the myths around diarrhoea management so you can better support customers who are affected
Record my learning outcomes