Pharmacy life
Going the extra mile
Seven miles from the nearest doctor, Right Medicine Pharmacy in Balintore is at the frontline of care in its community
Small but determined describes the team at Right Medicine Pharmacy Balintore. Located in the seaboard village of Balintore in the north east of Scotland, the team is tasked with delivering prescriptions to out-lying rural areas, while providing an excellent service for their local community. Headed by pharmacist and pharmacy manager Kathleen Thornton, who describes her team as "amazing" and "very supportive", the team comprises main dispenser Laura, part-time dispenser Caroline and counter assistant Suzie, as well as two delivery drivers, William and Susan (pictured below, right). Each member of the team is fully committed to their role and will often go beyond the call of duty to help their patients.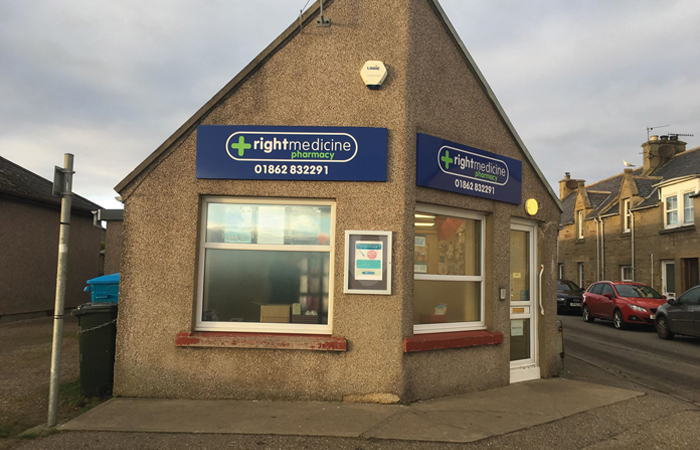 First port of call
The only healthcare provider for seven miles – the closest being in neighbouring Tain – the pharmacy is essential to the local community. "A lot of the mums come in when their kids have colds and flu. If we weren't here, they would have to go through to Tain," says counter assistant Suzie Marr (pictured below, left). Surrounded by farmlands, the pharmacy is often the first port of call for health advice, especially for those have difficulty getting out of the village to amentities further afield. Suzie explains: "Some people can't get out of the village, especially the older community or young mums, and they have to rely on buses. Yes there is a bus service, but every now and again the bus will not turn up."
As with many community pharmacies, the team often see a lot of familiar faces coming through their doors. "Being the pharmacist in a village community I'm getting to know people and people are getting to know me," says Kathleen (pictured below, middle). "Customers come in and call us by our first names, and they feel that it's a safe, welcoming and friendly place to come to."
Delivery is key
Right Medicine Pharmacy Balintore brings pharmacy to patients' doorsteps, wherever they live, with its popular delivery service. Many of the surrounding rural villages are without a pharmacy and with public transport often unreliable, this service is crucial for patients getting their prescriptions on time.
Suzie comments: "We have elderly patients within the village. In the summer months, they want to come in, they want to get out and see people, but during the winter months they're not so keen to get out, so we can deliver to them. We've got people who live outside of the village who need the delivery service because they can't get out themselves, they're housebound. I think it is an important service."
The team pick up prescriptions from the doctors twice daily as standard practice, however, they are always on hand to go the extra mile. Kathleen explains: "We are a few miles from the doctors so if we need to pop and get an urgent prescription for a patient then someone has to drive into Tain, which is a 14 mile round trip, but we will do that."
The delivery service widens the pharmacy's patient base and takes up a lot of time, but that doesn't stop the team from continuing to put patients first. One team member in particular went above and beyond to help one of her patients. Kathleen says: "Earlier this year, my dispenser Laura did a 100-mile round trip to source a controlled drug for a patient, which involved driving to the surgery, driving to our local hospital, and all because it was a strong painkiller that a patient needed urgently. And that was all on icy roads."
Almost a year ago, Balintore was hit hard by the so-called Beast from the East. The team pulled together and kept dispensing, managing to serve the community even in the most adverse of conditions. "There was one day where all the routes into Balintore were cut off," Kathleen recalls. "Suzie – my counter assistant – and her Dad went out and were checking the roads for us and they were keeping us updated. My part-time dispenser, she's also local, was contacting me as well and letting me know what the routes were like, so that was a great help having that local knowledge."
In a real display of community effort, everyone had a hand in making Balintore accessible and allowing the pharmacy to keep running smoothly. Suzie explains: "Because there's a lot of farms around here, the farmers just got their tractors out and made a path – it took a while!"
Community services
The pharmacy offers a number of extra services to save Balintore residents from travelling far for minor complaints. Kathleen is keen to utilise her clinical skills and the rest of the team are on hand to help.
The team has recently set up a common clinical conditions clinic which means that "for more minor conditions, sometimes we can refer to the surgery, or provide something for minor ailments, or write a prescription for a POM," Kathleen explains.
In addition, there are patient group directions in place in Scotland for impetigo and urinary tract infections (UTIs) and "so within certain guidelines and restrictions we can provide fusidic acid for impetigo and antibiotics for UTIs," says Kathleen. "Sometimes we obviously do need to refer to the surgery, but it just means that those medications are more accessible for those patients that can't necessarily wait to get an appointment with the GP. Community pharmacies are so accessible, people can pop in all day and they don't need an appointment."
Kathleen and her team already serve a wide area efficiently, and want to be seen increasingly as the go-to healthcare destination for local people. "We're just trying to be the pharmacy that people will think of. If they need some help or need some advice, or have a query then they'll think of Right Medicine Balintore as the place to come, that's what we're aiming for," says Kathleen.
The bottom line, according to Suzie, is that "we're here to serve the local community." She adds: "Hopefully it's just going to go from strength to strength, and be here for as long as people need us."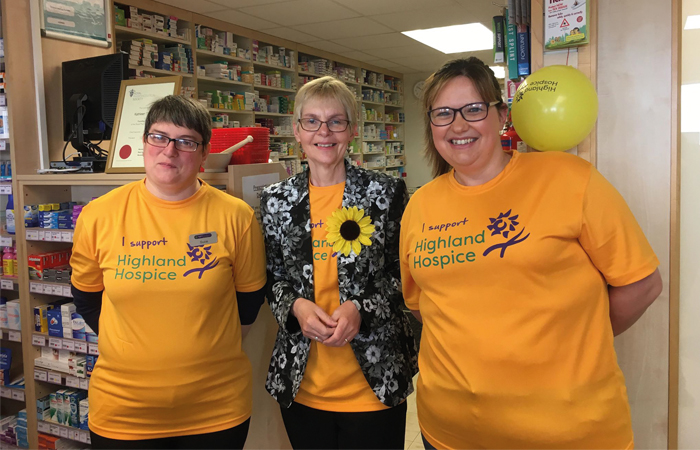 Charity in the community
Always going above and beyond, the Right Medicine Pharmacy Balintore team extends their helping hand to charities based in the Highlands and Scotland as a whole. "We had a day raising funds for the Highland Hospice," says Kathleen, referring to the charity which provides specialist palliative care in the Highlands. "That went really well. We all wore yellow, the Highland Hospice gave us sunflowers, and we did various fundraising for that. We had children's colouring competitions to get the youngsters involved and then we put those pictures up in the window."
In the run up to Christmas, the pharmacy contributed to the Mission Christmas campaign, run by Moray Firth Radio (MFR) in support of Cash for Kids. "They appeal to people to buy an extra Christmas present for the children who don't have any. MFR get many applications every year from parents who are struggling," says Suzie. The pharmacy is one of 107 locations across Scotland involved and after just a week of collecting Christmas presents, the pharmacy's box was already full. Commenting in December, Kathleen praised the communtiy's efforts, saying: "There won't be any local children without a Christmas present."
My dispenser Laura did a 100-mile round trip to source a controlled drug for a patient
Sponsored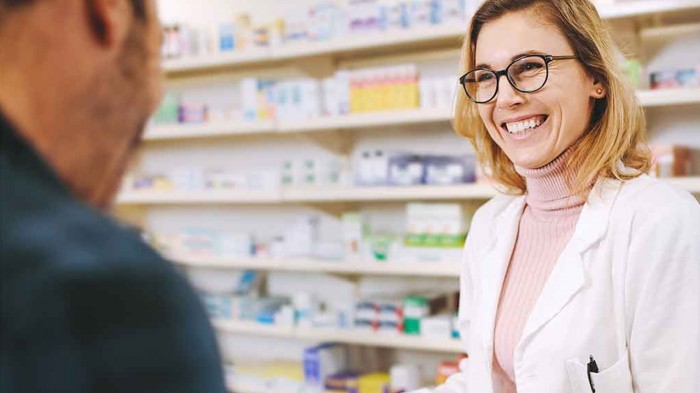 Sponsored education
Update your knowledge on a POM to GSL hayfever switch with this short video
Sponsored education
This module highlights a new opportunity to treat heartburn and reflux in the pharmacy with Omeprazole 20mg, which is newly available for customers to purchase OTC.
Record my learning outcomes