Pharmacy life
Rising to the challenge
After nearly 10 years as a medicines counter assistant, Joanne Macpherson is continuing to adapt to changes and rise to new challenges.
This June will mark 10 years since Joanne Macpherson began work at Giles Pharmacy on her local housing estate in Wardon, Worcestershire. Previously, Joanne had worked in several different settings, from retail to magistrates' courts, but when returning to work after having her children she decided that it was time for a change and thought that pharmacy would be "a challenge". Nearly a decade on, and she has not been disappointed.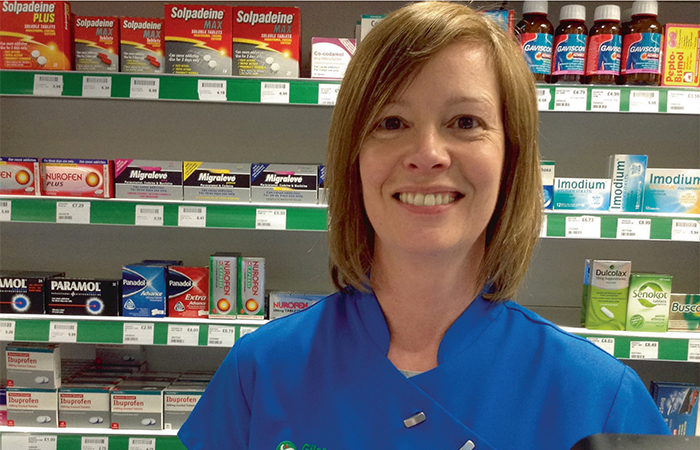 Customer contact
After qualifying as a medicines counter assistant (MCA), Joanne was offered the opportunity to train as a dispensing assistant, but decided to stay on the counter as she felt this would allow her to have more direct contact with patients and customers – the aspect of pharmacy life that she values above all others.
"I enjoy talking to the customers more than anything," she enthuses. "The pharmacy has been here for 50 years, lots of the staff have been here a long time and we have built up a rapport with the customers. I try to remember what people came in for last time so that I can ask how they are getting on the next time; that gives them trust and confidence in us."
Changing times
Over the years, Joanne has had to get to grips with various changes, including the introduction of new pharmacy services, as well as the advent of the electronic prescription service (EPS). The biggest change, however, occurred three years ago when Giles Pharmacy was acquired by pharmacist Archie Unger and his wife Monika, and became a member of leading European pharmacy network Alphega Pharmacy in the process, as well as undergoing a major redesign.
"Things have changed dramatically," declares Joanne. "The pharmacy has become much more modern and business-focused, but has retained its friendly, welcoming atmosphere."
Alphega Pharmacy membership has also ushered in greater use of technology, with Joanne and the team now using Alphega Pharmacy tablets to assist them in their daily roles, keep abreast of pharmacy and health news, look up information for customers and undertake and record their learning.
"We each have our own login details and do an hour's training every week on different healthcare or product areas," she explains. "It's important to schedule in learning and set targets, as it would be quite easy not to do it otherwise."
Responsible roles
Joanne has never been short of opportunities to do further training and take on new roles. Last year, she and two colleagues trained as stop smoking advisors, and with the support of Monika and Archie, Joanne has also been able to develop her leadership skills.
Giles Pharmacy has a large team of 14, including six medicines counter assistants, and as the senior MCA, Joanne manages the day-to-day running of the front-of-shop area and oversees the counter team's work schedule. To help her keep on top of these roles, Joanne attends weekly management meetings with Monika, as well as supervising regular staff and MCA meetings.
"I organise a daily counter rota, sorting out which jobs need to get done each day and I've also been busy training young people as pharmacy apprentices – we are now on our third one," she says. "We are a great team, varying in ages from 70 to early 20s and we all work really well together."
The pharmacy deals with eight different GP surgeries, so a large part of Joanne's day involves collecting and sorting prescriptions, usually via the EPS, before passing them on to the dispensary team.
Joanne's other important daily tasks include ordering and labelling products with the aid of Alphega Pharmacy's planograms. Until recently, the counter team each managed a different category. However, Joanne has recently initiated a rotation system, which allows the staff to switch sections every three months.
"This helps us to get to know all the products better and improves our OTC advice and link selling skills," she explains. "It also keeps things fresh and maintains pride in our work."
We are a great team, varying in ages from 70 to early 20s and we all work really well together
Challenges ahead
Life at Giles Pharmacy has continued to change and throw up exciting new challenges and opportunities for the team. Most recently, after two years of dedication and diligence, the pharmacy became accredited as a healthy living pharmacy (HLP).
To help the pharmacy achieve HLP status, Joanne undertook further training, gaining a Level 2 qualification in Understanding Behaviour Change, accredited by the Royal Society of Public Health. She is looking forward to putting her new skills and knowledge to good use soon by providing NHS health checks and healthy living advice to her community.
But the changes haven't stopped there. Giles Pharmacy is now gearing up access to NHS summary care records with its patients' consent, and Joanne has been selected to act as the privacy officer. The new role, she says, "will be a big responsibility, but I'm looking forward to the challenge".
Like the rest of the pharmacy team, Joanne was extremely proud when Giles Pharmacy achieved HLP status, but she was even more proud when the team was honoured with the prestigious Alphega Pharmacy 2015 National Award in March 2016 in recognition of all their hard work.
Good service
As the pharmacy has developed its services and the housing estate has grown up around it, Joanne says that it has increased its footfall and is now attracting a broader range of customers. But new or familiar, she is determined to offer everyone the best possible service, care and advice.
"It is a very diverse neighbourhood; we serve people from all walks of life," says Joanne. "We have grandparents coming in with their grandchildren and mums who I remember as kids. We want to provide them all with good customer service so that they keep coming back."
Sponsored
Sponsored education
With research suggesting a possible link between COVID-19 and EPs, make sure you're confident discussing EPs and their treatment with customers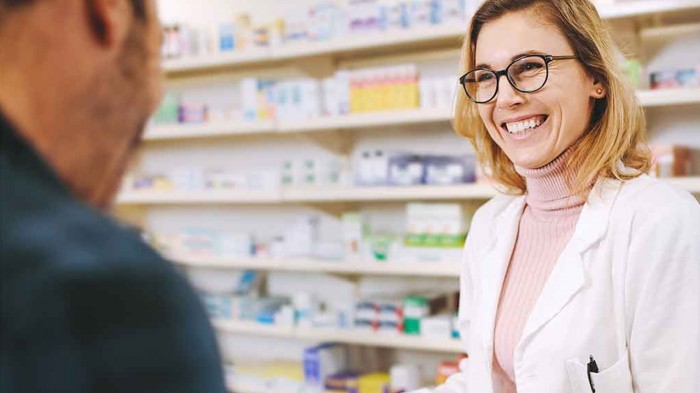 Sponsored education
Update your knowledge on a POM to GSL hayfever switch with this short video
Record my learning outcomes