Recognition of Excellence 2019
Christine Bateman
Being recognised and rewarded for her work is a common theme for Christine Bateman, but she remains humble and grounded, always looking for the next way she can support her customers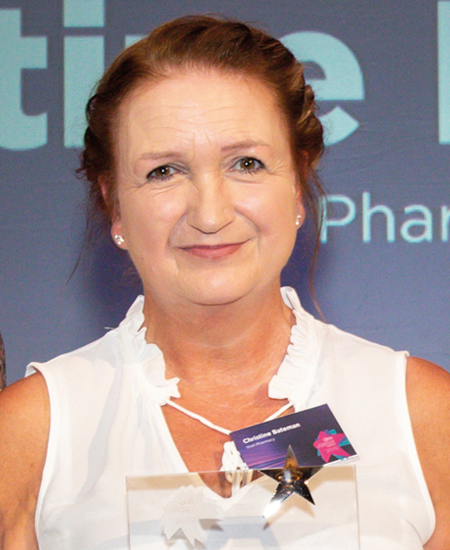 Being made redundant is awful – one of the most stressful life events someone can experience. But Christine Bateman turned disaster into opportunity: she moved into pharmacy and says she "never looked back." Clearly the accuracy checking technician from Well Pharmacy in Sandbach Commons, Manchester, has found her calling, as she was named winner of the Customer Care category at the Recognition of Excellence (RoE) Awards. This particular award, sponsored by Powermed, is given to someone who consistently provides excellent customer care or who has gone the extra mile to help a customer get the most appropriate medicines, advice or support they need.
Double recognition
This isn't the first time Christine has been publicly lauded for her work. Earlier this year, she received an award from the pharmacy's local GP surgery – the only person working outside the practice organisation to be recognised in such a way. The reason was a case involving a young woman seeking emergency hormonal contraception from the pharmacy. Christine immediately identified her as shocked and confused, so took her aside to speak to in private. The customer confided that her request had been triggered by her being sexually assaulted, so Christine made an appointment for her to see a doctor, and accompanied her so she didn't have to endure the consultation alone. But that wasn't where it ended, with Christine going on to support both the young woman and her parents, who were understandably emotional as a result of the trauma.
Christine comments: "I felt it was important to handle the situation with care. She was clearly in distress and it was an incredibly difficult situation… This is part of my job and I wouldn't expect to do anything less, but I believe it is a strong example of how we are at the frontline of our communities in pharmacy."
Richard Stephenson, RoE judge and chief operating officer of Scottish pharmacy group Right Medicine Pharmacy, praised Christine for the respect and care she showed. Fellow judge and previous Spotlight Award winner Haroon Mahmood stated: "Her respect, dignity and care of the patient who she looked after in such unimaginable conditions were inspiring… it brought tears to my eyes." Pharmacy technician Tess Fenn added: "Christine's nomination demonstrates her remarkable perception and the understanding that she has for the pharmacy customers. Her dedication in ensuring their personal needs and safety are met, particularly in times of crisis, are remarkable."
I believe it is a strong example of how we are at the frontline of our communities in pharmacy
A wonderful occasion
Christine hugely enjoyed the Recognition of Excellence Awards ceremony, held at London's luxurious Grosvenor House Hotel. She says: "It was wonderful, I felt so special. I was on the same table as the other finalists in my category and when the other two were asked to go up to the stage, I was so pleased for them and almost relieved that it wasn't me. Then suddenly I saw my name up in lights, and my partner was tearfully telling me I'd won!"
The element of surprise has been a common theme throughout Christine's journey to the top, as the moment she found out that she was a finalist was when she received a phone call from Training Matters. Colleague Gina Holden had nominated her fellow pharmacy technician. She was absolutely right to do so, because someone with the care and compassion shown by Christine in her everyday work is exactly the kind of person who makes the pharmacy profession so incredible.
Sponsored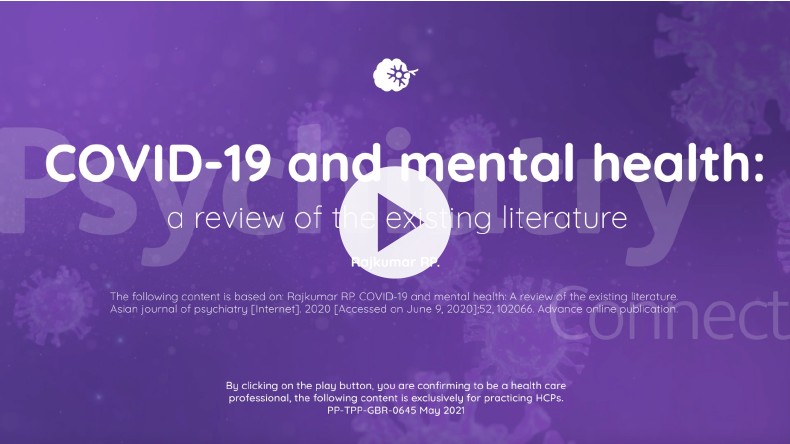 Sponsored education
Viatris has created this short video based on a publication reviewing global research into the potential impact of the Covid-19 pandemic on mental health. It identifies six areas where psychiatrists can play a role in supporting people's mental health through these difficult times.
Sponsored education
With research suggesting a possible link between COVID-19 and EPs, make sure you're confident discussing EPs and their treatment with customers
Record my learning outcomes
Recognition of Excellence 2019