Recognition of Excellence 2019
Fiona Spraggins
Taking her pharmacy from the brink of disaster to great success, Fiona Spraggins had a clear vision for the future and her determination and resilience make her a force to be reckoned with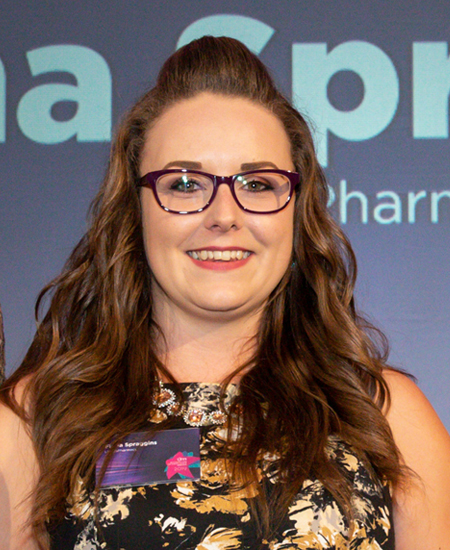 The Recognition of Excellence (RoE) Team Leader Award is endowed to someone who steps up to manage all, or part of, a pharmacy and successfully leads a team. This is certainly an accurate description of Fiona Spraggins, who in May 2018 moved to manage the LloydsPharmacy branch in Mildenhall, Suffolk, having worked her way up from the position of Saturday sales assistant over a period of nine years.
Her journey into management wasn't an easy one. "The store was in a crisis period and well known by local bodies due to complaints and general noise about the levels of service," explains Fiona. "The team were beyond demoralised and on the verge of resignation, spending most days in tears due to the sheer stress and pressure they were under, with a 'no light at the end of the tunnel' outlook." Anyone who has been in a similar situation knows how difficult it can be to turn things round, with staff likely to get defensive if they feel the way they have been doing things is being criticised, but Fiona took care to tread a diplomatic path, carefully explaining why things needed to change and explaining her vision for the future.
After a short time, the basics were in place, with Fiona putting in some simple steps to correct and improve the key processes that underpin any pharmacy operation: "They turned their frowns upside down and we got stuff done. It didn't take long to start seeing some fabulous results with reduced waiting times and improved customer satisfaction."
A holistic approach
Fiona also looked outside the pharmacy to see what could be done, meeting with the local pharmaceutical committee (LPC) and GP surgery to discuss the main areas of concern, and to find workable solutions. Once complaints had stopped, relationships mended and morale was up, Fiona then put in place as many commissioned services as she could in order to better serve the local community. She says: "The team is now truly fantastic, driven, ambitious and resilient, and it is a pleasure to call myself their team leader."
Fiona's success in turning round the pharmacy didn't escape the attention of LloydsPharmacy head office, which now drafts her into other stores experiencing operational difficulties. Nor did it pass by the LPC, who awarded Fiona the title of Inspirational Leader of the Year at its annual community pharmacy awards event. But she says she couldn't have done it alone, saying she shares all accolades with her team as it is their hard work as much as her own that has led to them hitting the highs they now experience.
The team is now truly fantastic, driven, ambitious and resilient, and it is a pleasure to call myself their team leader
RoE judge and principle associate of Pharmacy Complete Mike Holden proclaimed Fiona as having the "characteristics of a great leader – she has a great attitude and works for others, not herself", and said it was "leading by example that inspired a team in difficulty to turn their performance round". The rest of the adjudicating panel felt the same and so the winner of the Team Leader Award, supported by Klearvol, was agreed.
Fiona is most definitely not resting on her laurels, however, saying: "Nothing is ever perfect, there is always room for growth." Her current focus is trying to make the pharmacy a real asset to the local community, making the most of the large floor space of the pharmacy to do some fundraising activities such as cake sales and a "guess how many sweets are in the jar" stall, alongside the healthy living pharmacy campaigns. The pharmacy also looks after more than a dozen care homes, so there is plenty to be going on with. But as Fiona says: "I don't know what I'd do with myself if I was somewhere else!"
Sponsored
Sponsored education
Identify the 5 key elements to address in your dry skin consultations
Sponsored education
Work through a customer consultation to determine the possible cause of stinging, gritty eyes and recommend an effective treatment to help ease these symptoms.
Record my learning outcomes
Recognition of Excellence 2019