Recognition of Excellence 2019
Paula Woodgate
Paula Woodgate wowed the judges with incredible examples of how she's helping her community and supporting her colleagues, not just in her permanent branch, but across others in the group too. The proud recipient of four prizes, including the overall Spotlight Award, Paula has taken the pharmacy world by storm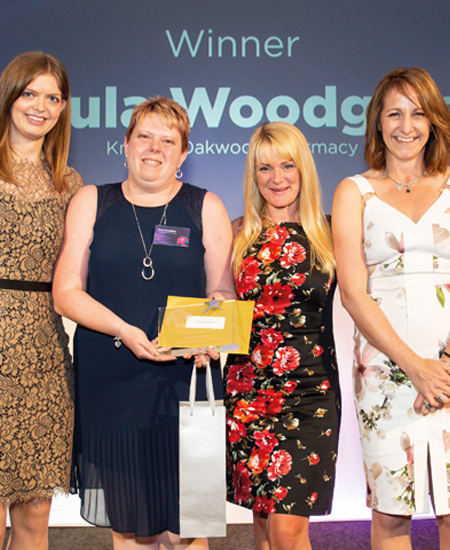 Each year at the Recognition of Excellence (RoE) Awards, hosted by Training Matters, all of the individual category winners have their names put forward for an overall prize: the Spotlight Award. This honour is bestowed upon someone whose contribution to pharmacy has been so exceptional that they deserve special recognition. And this year, there was just one name on everyone's lips: Paula Woodgate.
Before the Spotlight Award winner was announced, Paula had already been to the stage an astounding three times, collecting highly commended accolades in the Healthy Living Advisor and Innovation categories, and being named winner of The Pharmacy Network-sponsored Outstanding Contribution Award. The latter is no small feat, being this year's most popular category.
The judges were unstinting in their praise for the manager of Knights Oakwood Pharmacy in Birstall, Leeds (see below). Superintendent pharmacist Peter Horrocks put Paula's name forward, saying she wouldn't have done it herself because "she is very humble in all she does". Her success, says Peter, is not just about what she does to make the pharmacy a successful business, or provide the best possible care for customers – though she does do both – but is because of the question always uppermost in her mind: "What can I do to make my pharmacy the centre of the community?"
Sensational support
A prime example of this is Paula setting up the initiative 'Hunger Knows No Season'. Recognising that many in Birstall were feeling the full brunt of austerity, especially around Christmastime, Paula set up baskets for customers to leave donations of food and toiletries if they felt able and willing to. Posters and leaflets attached to bags of dispensed medicines highlighted the project, which quickly shifted from a seasonal campaign to a full blown food bank – now one of the busiest in the area – and something that has helped countless individuals and families at times when they need it the most. Local MP Tracy Brabin – who as shadow minister for early years is only too aware of how vulnerable some in our society are – has visited the pharmacy to see the work being done and discuss how it fits into the NHS 'Help Us Help You' campaign.
This isn't the only recognition the pharmacy has received. Last year, it garnered the Turn It Purple Pharmacy of the Year Award from Pancreatic Cancer Action – coincidentally the 2019 RoE Awards charity partner – as a result of Paula leading efforts that saw staff, families and patients making up food hampers, pamper packs, chocolate gift boxes and candle sets… all purple, of course!
All of this runs alongside the more regular work undertaken by Paula's team. For example, campaigns under the healthy living pharmacy banner – which have gained quite a following on social media – and hitting targets for services like medicine use reviews (MURs) and the new medicines service (NMS). Flu jabs are another area in which Paula surpasses expectations, going into nurse practices and local schools so more people get protected.
Passion for progress
Training is not allowed to slip, and in fact this is another illustration of Paula going above and beyond. She says: "I try and help dispensers to make less mistakes when dispensing by making up mock dispensing baskets with errors or no errors, and ask them to complete either dispensing or checking as if they were the pharmacist or [accuracy checking technician] to spot whether any mistakes have been made. This makes them aware of how easy it is to miss errors, and that we are all human, and no one is infallible. It also keeps them alert!"
All staff are issued with a performance development plan so they are in charge of their own progress. Paula reviews these quarterly, making sure the process involves two-way feedback. She also works closely with the local GP practice and is in the process of setting up a 'Walk In My Shoes' programme where the two teams are given the opportunity to see what goes on in the other workplace. The reason is simple, says Paula: "We are not two separate entities, we are in fact one team."
Ahead of the rest
Paula laughs that she rather crashed into the RoE event, with train delays resulting in her arriving at the venue two hours later than planned. Perhaps that was why it took her a while to realise that the person being described as having won the Numark-sponsored Spotlight Award was "not one of the winners of the other categories, because it could have been, they have all done such amazing things", but actually her.
Paula's trophies are now on display in the pharmacy, and she has received multiple congratulatory cards from customers. Since the Awards, she has been put in overall charge of three more Knights Pharmacy stores, including one that is due to relocate, and she plans to set up food banks in these to replicate the work being done in the Birstall branch. But she has even bigger ideas: a Pancreatic Cancer Action campaign across all 50+ Knights pharmacies would be a good starting point, she says.
Next stop, world domination. So remember Paula Woodgate's name. It won't be the last you hear of her.
Praise for Paula
The RoE Award judges were bowled over by Paula's achievements. Here's what some of them had to say:
Richard Dunne, senior manager for professional learning and development at Boots UK: "Uplifting and inspiring, showing a huge passion for patients and the difference pharmacy can make to their lives."
Tess Fenn, pharmacy technician: "Among so many nominations, Paula's stood out for her compassion and humility. Her professional approach and practice is a true inspiration. Absolutely amazing and a marvellous role model for us all."
Liz Fidler, president of the Association of Pharmacy Technicians UK: "Excellent examples of impact on patients and staff – going above and beyond."
Leyla Hannbeck, chief pharmacist and director of pharmacy at the National Pharmacy Association: "Goes above and beyond for her local community."
Mike Holden, principal associate at Pharmacy Complete: "Outstanding vision, effort, passion, leadership and delivery – Paula could have come in the top three of every category."
Steve Howard, superintendent pharmacist and clinical standards director at LloydsPharmacy's parent company McKesson UK: "A real powerhouse of enthusiasm for pharmacy, driven by a desire to do the very best for customers, patients and her team."
Salim Jetha, chief executive of independent pharmacy group Avicenna: "Outstanding balance encompassing leadership, communication skills, business acumen and networking."
Angela Lewis, 2018 Spotlight Award winner: "Such passion, drive and fantastic efforts to reach out through campaigns."
Haroon Mahmood, 2017 Spotlight Award winner: "What really hits home is how Paula lives for her community."
Janice Perkins, pharmacy superintendent at Well: "Comes up with creative ways to get action and make a difference, and actions speak louder than words."
Tim Rendell, head of pharmacy at Day Lewis plc: "Paula is an obvious choice for the Spotlight Award. She appears in every category and has been involved in so many amazing initiatives, above and beyond her job role."
Richard Stephenson, chief operating officer at Right Medicine Pharmacy Ltd: "I was blown away by Paula, a true stand out for pharmacy. Simply wow!"
Ade Williams, superintendent pharmacist at Bedminster Pharmacy in Bristol: "One of the great ambassadors of our profession."
Sponsored
Sponsored education
Bust the myths around acne causes so you can recommend effective products and self-care advice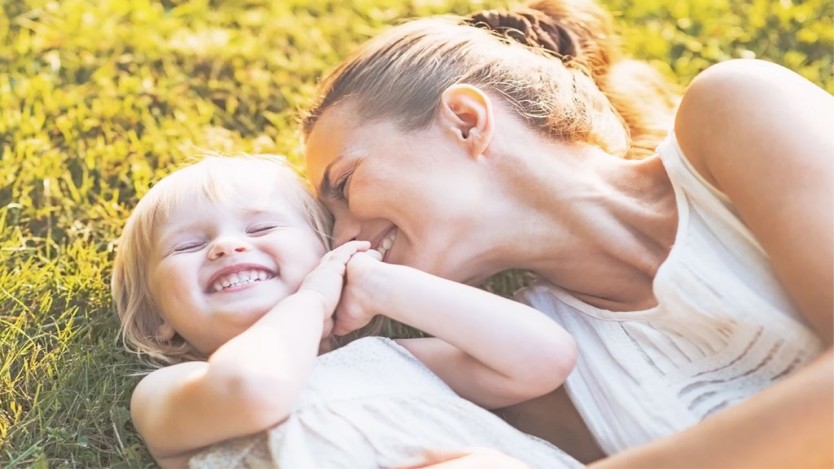 Sponsored education
This interactive video will test and reinforce your knowledge so you can confidently advise parents on common childhood illnesses, such as teething, earache, coughs and colds.
Record my learning outcomes
Recognition of Excellence 2019