The long wait to find out the Recognition of Excellence Awards finalists for 2020 is over and the winners can finally be revealed. Find out who impressed the judges and walked away with the top prizes
The annual Recognition of Excellence (RoE) Awards has one simple aim: to find the very best pharmacy support staff in the UK and reward them for their outstanding efforts in supporting the health and wellbeing of their customers, patients and communities.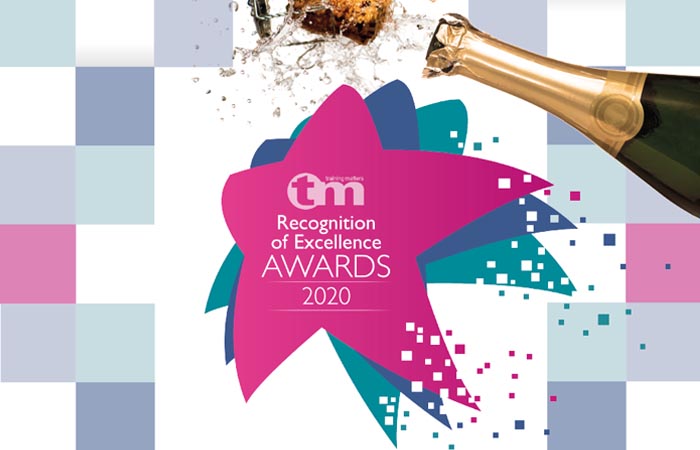 Now in their seventh year, the RoE Awards once again demonstrate that pharmacy support staff are a crucial part of the healthcare landscape and Training Matters (TM) is delighted to reward 35 truly inspirational individuals. It may be a little different this year, with no live awards ceremony, but these finalists are just as deserving of a celebration and so, as this issue of TM lands in stores, special deliveries are being made to each finalist as a token of appreciation for all their hard work.
Tough decisions
It was a record year for entries, making even the shortlisting a very tricky task. A total of 58 shortlisted entries were submitted to our esteemed judging panel, which included previous RoE winners, pharmacy technicians, community pharmacists, training providers and industry experts. They had the unenviable task of choosing the winner and highly commended finalists for each of the main categories.
After her first foray into RoE Awards judging, Paula Woodgate, the RoE Spotlight Award winner 2019 and pharmacy manager of Knights Oakwood Pharmacy in Birstall, said: "You didn't tell me it was going to be so difficult! I wanted everyone to win." And long-time RoE judge, Richard Stephenson, chief operating officer at Scottish independent chain Right Medicine Pharmacy, commented that he was "blown away by the level of entries this year". The Customer Care category in particular was "the most difficult category I have ever had to judge", he said.
Nevertheless, 13 winners and 22 highly commended finalists were chosen, as well as the all-important overall winner.
Praise during the pandemic
It's safe to say that due to the Covid-19 pandemic, 2020 has so far proved to be a unique year in community pharmacy. With a record demand for prescriptions, restrictions on entry to pharmacy premises, altered opening times, lengthy queues of customers and, in some cases, shielding colleagues, pharmacy teams have had a lot to contend with on top of their usual workloads. However, they've stepped up, worked hard and ensured that customers and colleagues are supported as best as possible.
To celebrate this, Training Matters introduced an exclusive Covid-19 Hero category for 2020, judged by TM's editor Helena Beer and Pharmacy Magazine editor Richard Thomas. Recognising the importance of teamwork during the pandemic, this category offered separate accolades for individuals and teams and an additional six opportunities for pharmacy teams to shine.
Someone to shout about
There are usually one or two Recognition of Excellence (RoE) Awards entries that really stand out and this year, the name that was discussed more than any other was the Outstanding Contribution Award winner David Perry.
A pharmacy assistant at Thomas Pharmacy in Barking, London, David is a pillar of support, not only to his customers but his colleagues too. Described by his team and the judges as tenacious, trust worthy, committed, selfless and humble, David provided a plethora of inspiring examples of how he supports his pharmacy and community, going out of his way to cultivate close links with local surgeries, make important deliveries out of hours and improve his knowledge and service.
RoE Awards judge Louise Baglole, head of learning and development at the National Pharmacy Association, said: "Well, words can't describe how well-valued David is by his team and customers – a superstar! Well done for your contribution and making lives better for patients and customers, David."
This high praise was echoed by the rest of the judging panel, who named David the overall Spotlight Award winner.
On putting him forward for the Spotlight Award, Liz Fidler, president of the Association of Pharmacy Technicians UK, commented that David's entry was the one that "stayed with me long after reading it". Ade Williams, lead pharmacist at Bedminster Pharmacy in Bristol, agreed and simply added: "I find him truly exceptional."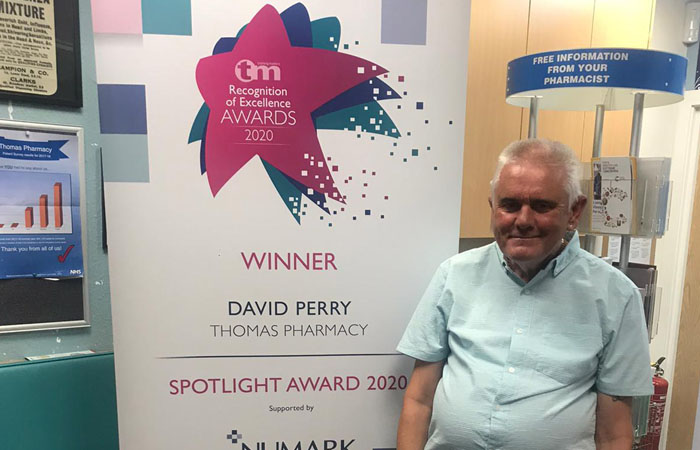 What makes a winner?
The 13 category winners beat off stiff competition to come out on top, with some categories being particularly close. Here's a round up of why each of them stood out to the judges.
In an almost unanimous decision, Rose Rekhy, medicines counter assistant at Right Medicine Pharmacy in Brora, Scotland, secured the Counter Intelligence Award for her excellent examples of applying OTC knowledge to support patient care, putting patients at ease and offering a personalised service.
John Walker, delivery driver at Grewal Pharmacy in Beeston, Nottingham, topped the Customer Care category for regularly going above and beyond the call of duty when delivering medicines, treating patients with compassion and respect, as well as ensuring their safety and wellbeing.
Adding to her 2019 Team Leader Award win, Fiona Spraggins, non-pharmacist pharmacy manager at LloydsPharmacy in Mildenhall, Suffolk, was named winner of the Healthy Living Advisor Award. Her determination to make her pharmacy a healthy living destination in the community via outreach events, charity partnerships and public health campaigns caught the eyes of the judges.
The title of Infant Care Champion went to Catherine "Kate" Hinsley, dispensing assistant at LloydsPharmacy Inside Sainsbury's in Cannock, Staffordshire. She impressed with her ambitious plans for outreach in local schools, as well as evidence of providing an empathetic listening ear, advice, reassurance and signposting to ensure both parents and their children are happy and healthy.
The Pharmacy Champion accolade went to Karen Sirrell, pharmacy assistant at Day Lewis Pharmacy in Henbury, Bristol, for her tireless work in building a strong relationship with the local GP surgery, sharing best practice with other local pharmacies and helping to push pharmacy forwards locally.
Ana Monteiro, shop floor supervisor at Earlsfield Pharmacy in Wandsworth, London, came top in the Retail Skills category thanks to an impressive nomination from her operations manager, which cited exceptional increases in retail sales under her watch. Ana also demonstrated that she goes to great lengths to understand her customer base and boost her OTC knowledge to underpin the retail side of the business.
In another near-unanimous decision by the judges, Jacqueline Douglas, pharmacy advisor at Boots UK in Forfar, Scotland was awarded the title in the Rising Star category. The judges highlighted her passion, dedication and transferrable skills, describing her as "a true rising star if ever there was one".
It was Nicola Coia's efforts with Boots UK's mole scanning service that saw her secure the Service Excellence Award. A pharmacy technician at the company's store in Glasgow's Buchanan Galleries, Nicola spearheads this new service, using her initiative, supporting patients and making a difference.
Avid TM readers may recognise accuracy checking pharmacy technician Myra Gauntlett from the inaugural RoE Awards. Back in 2014, she was named highly commended for Pharmacy Technician of the Year, but this year she went one step further and won the Team Leader Award. Her first-class leadership, communication skills and willingness to go the extra mile for her team and customers at Knights Pharmacy in Rubery, Birmingham, sealed the deal with the judges.
Aileen McLachlan, dispensing assistant at Right Medicine Pharmacy in Winchburgh, Scotland, has embraced new technology since the installation of a dispensing robot at her pharmacy. She has made it her mission to engage patients, ensure greater efficiencies and build her own confidence, making her a worthy Technology Champion.
A busy and challenging pharmacy with low team morale, staff shortages and new staff to train is enough to scare any one off, but Hayley Pike took this all in her stride, despite the added complication of a global pandemic. Then acting pharmacy manager at Well Pharmacy in Rossington, Doncaster, South Yorkshire, Hayley has worked hard to ensure the pharmacy runs smoothly, supporting customers and colleagues and even finding time to set up a safe space for domestic violence victims, which is why she was named Covid-19 Hero.
When lockdown was announced, Good Life Pharmacy in Hatton, Derbyshire, got ahead of the game and organised a logistically impressive delivery service to all elderly, vulnerable and self-isolating patients. These Covid-19 Heroes worked tirelessly to ensure no one went without their medication, maintaining close links with the local GP surgeries and making excellent use of communication channels, including social media, to get messages out to customers and patients.
Meet the highly commended finalists
Counter Intelligence Award
Charmaine Hill, pharmacy advisor & acting store manger, Boots UK, Dartmouth, Devon

Customer Care Award
Beth Rodger, dispensing assistant, Gun Lane Pharmacy, Rochester, Kent
Yousra Mantah, dispensing assistant, Superdrug Pharmacy, Croyden, Surrey

Healthy Living Advisor Award
Lesley Aldridge, retail sales manager & health champion, Woodbridge Pharmacy, Woodbridge, Suffolk
Samantha Gillatt, dispensing assistant, Langold Pharmacy, Worksop, Nottinghamshire

Infant Care Champion
Aleksandra Hajdecka, accuracy checking pharmacy technician & supervisor, Simmons Pharmacy, Cockfosters, London
Sheila Gerrard, dispensing assistant, LloydsPharmacy, Weaverham, Cheshire

Outstanding Contribution Award
Laura Bell, delivery driver, Day Lewis Pharmacy, Harold Wood, Romford, Essex
Hannah Rewcastle, pharmacy technician, Boots UK, Hassocks, West Sussex

Pharmacy Champion Award
Maxine Jones, dispensing assistant, Buckley Pharmacy, Ashtead, Surrey
Yousra Mantah, dispensing assistant, Superdrug Pharmacy, Croyden, Surrey

Retail Skills Award
Chantelle Eaton, non-pharmacist pharmacy manager, Rowlands Pharmacy, Prestbury, Cheltenham, Gloucestershire
Dane Winterburn, area support manager, Right Medicine Pharmacy, Winchburgh, West Lothian, Scotland

Rising Star Award
Eden Money, dispensing assistant, LloydsPharmacy, Rugeley, Staffordshire
Chloe Watson, pharmacy assistant, Weldricks Pharmacy, Dunscroft, Doncaster, South Yorkshire

Service Excellence Award
Julie Morran, non-pharmacist pharmacy manager, Rowlands Pharmacy, Walsall, West Midlands
Lucy Crockford, dispensing assistant, Seafront Pharmacy, Tenby, Pembrokeshire, Wales

Team Leader Award
Chantelle Eaton, non-pharmacist pharmacy manager, Rowlands Pharmacy, Prestbury, Cheltenham, Gloucestershire
Anisa Tai, dispensing assistant & supervisor, Vision Pharmacy, Narborough Road, Leicester

Technology Champion
Rosie Pettitt, apprentice dispensing assistant, Good Life Pharmacy, Hatton, Derbyshire

Covid-19 Hero
Abi Wattleworth, pharmacy technician, Well Pharmacy, Rochdale, Greater Manchester
Alex Corbett, dispensing assistant, Boots UK, Chingford, London

Covid-19 Heroes
Westhill Pharmacy, Bridlington, East Yorkshire
Tesco In-Store Pharmacy, Bexhill-on-Sea, East Sussex
An important cause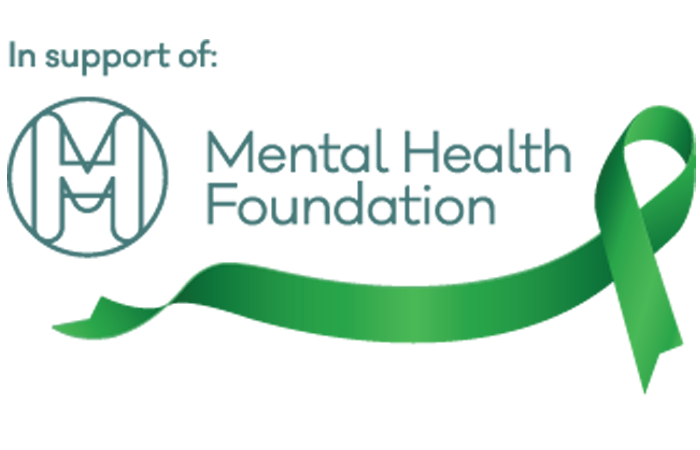 For the last three years, Training Matters has been proud to welcome a charity partner to the Recognition of Excellence Awards and this year, the team decided to support the Mental Health Foundation – a cause close to their hearts.
With the negative impact of the Covid-19 pandemic on the nation's mental health becoming increasingly apparent, this partnership is particularly pertinent and it is more important than ever to help spread the word about how people can understand, protect and sustain their mental health. Community pharmacy is in an ideal position to help achieve this.
Commenting on the Awards partnership, Chris O'Sullivan, head of business development and engagement at the Mental Health Foundation, said: "Pharmacies are a crucial link between healthcare and communities – they are crucial to people with mental and physical health issues, and a source of trusted and accessible advice for all. Pharmacy staff of all kinds provide compassionate services to people of all kinds, and we are delighted to have your support."
With special thanks to our sponsors: