Paula Hindmarch's passion for helping people meant that a switch from police officer to dispensing assistant was not as far-fetched as it may seem
After 25 years as a police officer, retirement loomed for Paula Hindmarch but the prospect didn't particularly appeal – there are "only so many cups of tea or coffee or lunches with friends that you can have in a week," says Paula.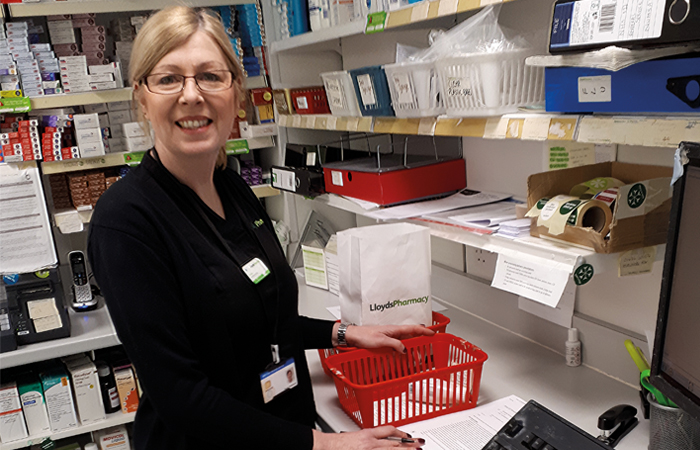 She therefore set about looking for part-time work, but admits that pharmacy didn't cross her mind as an option until her sister – who worked at a big multiple chain – told her about a vacancy. A successful interview later and Paula finished her job as a police officer on the Friday and started working in pharmacy on the Monday.
Two years later Paula moved to the community pharmacy run by LloydsPharmacy on the site of Hexham General Hospital and has been there for nine years in a role that she loves.
Focus on prescriptions
The majority of Paula's time is spent in the dispensary, where her main task is working through prescriptions. "I like to be on the red baskets – that's the prescriptions from walk-ins – because it's really fast paced and I really enjoy that," she explains, adding that despite having a lot of regulars, the fact that the pharmacy and doctors' surgery are attached to the hospital, means they get a lot of walk-ins too.
Paula also spends time recruiting customers for the various services that the pharmacy offers, including smoking cessation and flu jabs. A travel health service is the pharmacy's latest addition and Paula and the team are looking forward to seeing that progress in the coming months.
"I also do the new medicine service and medicines use reviews, keeping an eye out to see if people qualify and then letting the pharmacist know. I'm the force behind that really but I have an excellent pharmacist and a great team helping too," says Paula. "We also do Think Pharmacy First – that's another one I'm involved in recruiting for with the front-of-shop girls."
Paula and the team's main focus is in the pharmacy itself, rather than out-reach work, although Paula explains that the pharmacy is currently taking on work with local care homes. "We've got a separate [monitored dosage system] room for that and some of the other girls work on that as they're more skilled at that than me, but that's not a bad thing – we all have different skills and work well together as a team."
Teamwork is key
It's clear that Paula believes she couldn't do her job without the strong team that's around her. "There are the managers, accuracy checking technician, five dispensers and a healthcare assistant and we all get on so well and really support each other," she enthuses. "Each member of the team specialises in a different thing so when we all come together we make a great team."
As well as the support and camaraderie, another key to the team's success is communication. "We're very open and vocal if we have a problem we can talk it through and we have our staff meetings and what we call huddles each week. Everybody wants to do well and that's the main thing," says Paula. As such, doing their best for their customers, patients and each other underpins everything the team does and is a crucial part of Paula's job.
Top achievers
LloydsPharmacy Hexham was thrust into the limelight earlier in 2018 when the pharmacy was crowned regional champion for the North of England, Scotland and Northern Ireland in LloydsPharmacy's annual Pharmacy of the Year award, which celebrates the best stores in the company's network.
"We were marked on lots of different things: services, overall compliance, customer service, feedback, patient safety, targets and the shop. Getting to the final was all down to great teamwork," says Paula.
The whole team were invited to the grand final at The Belfry Hotel and Resort in Sutton Coldfield, where just three out of 1,500 stores fought it out to be named overall Pharmacy of the Year.
"We stayed overnight and then in the morning there was a presentation from each of the regional winners. We chose to do it on pharmacy services and how we would promote them in store," explains Paula. "In the afternoon we could choose a spa treatment or a round of golf but because of the weather all the girls chose the spa – they really treated us!"
At the gala dinner, the Hexham store was named runner up in the competition and Paula says she's so proud of herself and the team. "It was a brilliant night, apart from the fact that we didn't win, but even so, we did so well to get as far as we did."
The judges praised the focused, respectful and strong team who are "all working to support each other" and put "patients at the heart of everything".
At the event, Andrew Gibb, retail operations director at Celesio UK, LloydsPharmacy's parent company, commented: "It's been a challenging year for our profession, which is why it's especially inspiring to hear how our finalists have gone above and beyond to achieve excellence."
A taste for success
Looking ahead, Paula says that her focus is helping her customers and patients to the best of her ability. "Pharmacy is very different to the police force but I'm happy in the knowledge that I still help people," she explains. "I'm quite happy as I am for the time being and continuing to be part of a top achieving team. We're all working to continue to do the best that we can."
With the team's recent success and Paula's desire to be at the top of her game, who knows what will come next.
It's very different to the police force but I'm happy in the knowledge that I still help people