Views
A note from New Zealand
Arriving in the UK as part of a grand plan to gain experience in a new field of work and spend her spare time travelling in Europe, Michelle Rott (pictured far left) was up for any challenge. She soon found herself immersed in the world of community pharmacy and then Covid-19 hit. Here she tells her story
I jetted away from New Zealand in January this year as an almost-thirty-newly-unemployed-yet-unstoppably-optimistic lass. I swung my bags through Birmingham airport like I was starring in a Mary Poppins musical. My wild grinning even got me pulled aside by airport security. 2020 was going to be my year of embracing uncertainty! Who knew how true that mantra would be for us all?!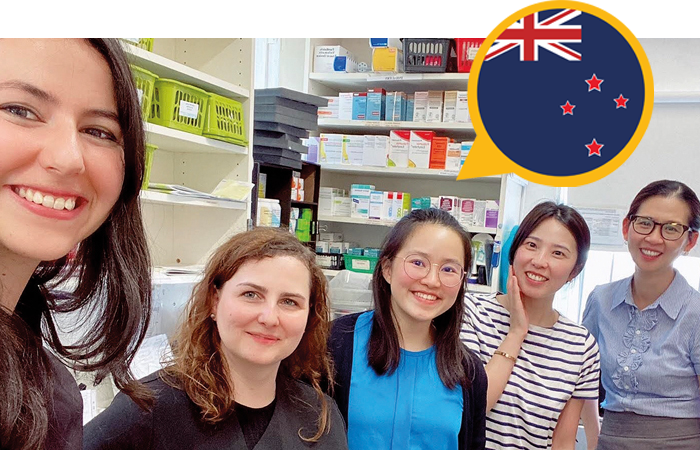 An unexpected adventure
How I came to work at a pharmacy in Bristol during the height of a global pandemic was nothing short of a miracle. My pharmaceutical background in New Zealand was somewhat lacking. I had spent several years teaching little ones in school. This meant my only medical experience was administering plasters to ouchies and arnica cream to whoopsies.
But as a wonderful plot twist, I came in contact with M J Williams Pharmacy through a mutual friend. Jess and Ade just happened to be the most positive and hilarious couple in Bristol. In my interview, we chatted about Banksy, our common beliefs and their heart for Bristol. They saw my non-existent pharmaceutical background as a happy challenge. Before I knew it I had a job as a trainee pharmacy dispenser only a couple of weeks after making my grand entrance into the UK.
Excited for the adventure, I just about danced into the pharmacy on my first day. I quickly discovered that there is a particular choreography that happens in a pharmacy that took me a few weeks to pick up. But the team effortlessly walked me through the rhythm of managing stock, deliveries, prescriptions and that all important customer service.
Confronting challenges
Our patients always provided the most interesting content of the day. I loved taking phone calls from sweet, retired people who wanted to order a repeat prescription, but perhaps also have a long chat if they could get away with it. Sometimes my accent got in the way of chit-chat business.
As a teacher, I can decipher the ramblings of a two year old with the ease and accuracy of a paid interpreter. Yet in the pharmacy, sometimes I would have to painfully ask a patient to spell out their name for the third time in a row. And slowly please. On one occasion, before a "Mrs Fvpjkl" abruptly left the phone call, and perhaps our pharmacy, I sheepishly surrendered the phone to a bemused colleague. My colleagues were always professional with a hint of humour. Their character and poise made me want to spontaneously applaud right next to the stacked boxes of paracetamol.
Those stacked boxes of paracetamol were one of the first things I noticed that changed once Covid's bony fingers tightened around the UK. Suddenly, there were hardly any boxes of paracetamol at all. Then queues of anxious customers snaked outside the pharmacy even in the icy rain. Everyone became desperate to get hold of inhalers they hadn't used in years or prescriptions that weren't due for weeks. The phone rang from the time I hung up my coat in the morning until we locked the doors. Most of the calls were queries about hand sanitiser. Mass amounts of prescriptions spat out of our printer. Our one basket of prescriptions exploded into seven. It felt like the stage went dark and the hot spotlight fell on us, the NHS. Everyone was watching, and we felt the heat of that light burning on us.
And yet, I believe I couldn't have come at a better time to the UK. I loved being able to put my hours into meaningful work. I relished being part of a team of essential workers that kept the scene flowing while we all wondered what would happen next in the story. 2020 has been a real page turner.
Beautifully British
One of the most beautifully British experiences I had was receiving a bike from a complete stranger during the height of the pandemic. This all came about one night after I came home particularly late after my shift had ended. I laughed with my housemate that I needed a crystal ball to figure out the timetable of my bus during lockdown. Not even the bus drivers themselves knew their own timetables! My housemate suggested that he could reach out on social media to see if someone had a bike they could lend me. In five minutes flat he had several responses from his friends.
And that has been the beauty of 2020. The unexpected has happened. We've all been dropped into a unique and bizarre storyline. Everything about this year has been full of drama and pain and kindness and love. The worst times have also often brought out the best in us.
They saw my non-existent pharmaceutical background as a happy challenge
Reality calls
I flew back to New Zealand a couple of months ago. I have often sat around dinner tables with friends who lean in close as I talk of an arty city full of people who are fun, generous and brave.
Yesterday I popped into my local pharmacy for the first time to reminisce. I bought a thermometer to cover up my awkward presence in the otherwise empty silence. There was no smiling Eva, Beata, June, Anna, Shirley or sweet elderly patient shuffling near the shampoo. My accent fit right in. In the silence I remembered that this year is not over and I smiled behind my mask.
I decided to keep embracing the uncertainty, and listen to the quiet music beckoning us all to come and dance.
Sponsored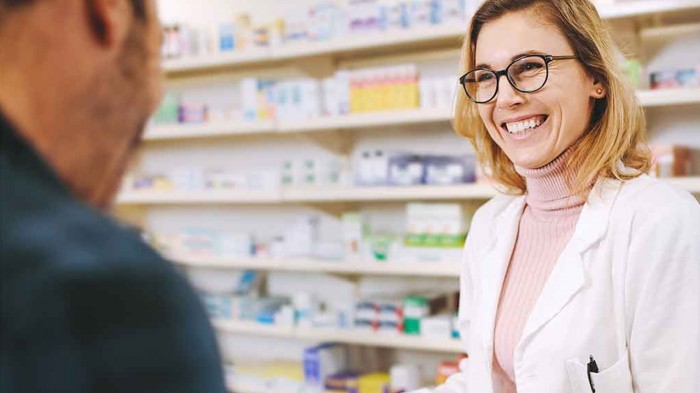 Sponsored education
Update your knowledge on a POM to GSL hayfever switch with this short video
Sponsored education
With research suggesting a possible link between COVID-19 and EPs, make sure you're confident discussing EPs and their treatment with customers
Record my learning outcomes