Cold weather? Snow problem
Conditions
Cold weather? Snow problem
Winter is coming. And for a lot of people, this can only mean one thing: dry, dull and flaky skin. Pharmacy teams can be on hand to advise customers on how to adapt their skincare routine to protect it from harsh winter weather
At this time of year, it's natural to dig out woolly jumpers and layer on warm clothing to keep out the winter chill. But it's not just people's wardrobe that may need some attention. Harsh weather can take its toll on the skin, leaving it dry, dull and flaky, so a skincare routine may need some tweaks during the winter months too.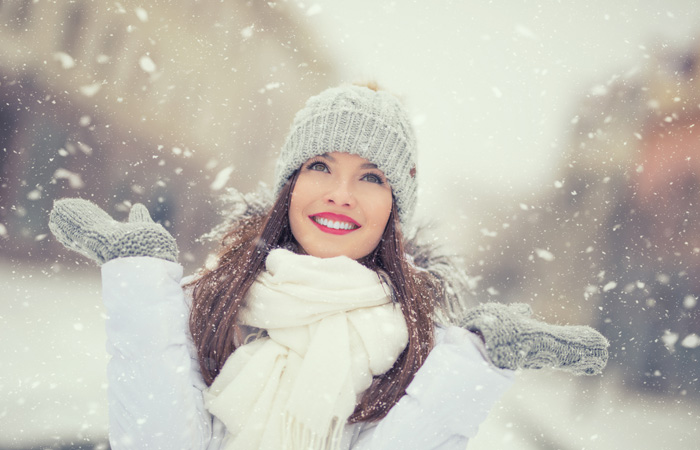 Dry skin can be particularly noticeable on exposed areas of the body, such as the hands, feet, knees, elbows and face, and the skin may feel a bit rough or tight at first. Then over time, it may become chapped, scaly and itchy. This can be triggered by environmental factors that disrupt the skin's natural moisture balance.
"The fall in temperature, reduction in humidity and harsh wind can strip the top layer of skin of its natural oils," says Deborah Evans, community pharmacist and managing director of Pharmacy Complete. "This can lead to dry, itchy, red and inflamed skin. Central heating, long hot baths, woollen clothing and perfumed soaps and bubble baths can also exacerbate dry skin."
Certain skin conditions, such as eczema, psoriasis, rosacea and even cold sores, may also flare up at this time of year. A study conducted on behalf of Epaderm found that the winter season was the worst time of year for children's eczema, with 78 per cent of parents saying the cold winter weather made their child's skin itchy, red and sore, causing it to dry out. Over 80 per cent of parents spent more than three hours a day in the winter months treating their child's eczema flare up.
"Pharmacy teams can highlight that winter weather can exacerbate existing conditions such as eczema or psoriasis," says Deborah. "Alongside moisturising and treating dry skin areas, patients may need additional support and treatment for flare-ups, such as steroid creams and possible GP or dermatologist referral."
Moisture boost
Using rich moisturisers or emollients is the first step in keeping the skin soft and supple. These creams, lotions and ointments reduce itching, scaling and cracking, but need to be applied regularly to maintain the skin's moisture levels. "Emollients will prevent itchy flare ups and reduce the need for stronger steroid creams," says community pharmacist Sultan 'Sid' Dajani. "Be sure to advise parents to apply emollients multiple times a day in generous amounts, as most parents in the UK – 91 per cent of parents in the Epaderm survey – only apply emollients once a day."
In general, the greasier a moisturiser, the more effective it will be. "The most important thing is to keep the skin hydrated, particularly if there is a tendency towards dry skin conditions," says Dr Anjali Mahto, consultant dermatologist and British Skin Foundation spokesperson. "Get into the habit of moisturising the hands after washing them and carrying a moisturiser at all times in your bag."
Even if someone is not normally prone to dry skin, using a richer moisturiser during the autumn and winter months may help to protect their skin against harsh weather. This should be used twice a day, morning and night – or more often if the skin feels drier than usual – and apply a protective lip balm as well, to prevent sore, chapped lips. A nourishing night cream or balm will help to replace moisture lost during the day.
"Recommend products with rich hydrating and emollient properties," says Deborah. "This will help nourish skin and prevent drying. Suggest steps to prevent skin from drying out too, for example use a humidifier in rooms with central heating, avoid rubbing skin roughly with towels – pat them dry instead – and wear rubber gloves when washing up."
The fall in temperature, reduction in humidity and harsh wind can strip the top layer of skin of its natural oils
Optimal skincare routine
Some people find they need to adapt their whole skincare routine as the weather changes, avoiding any products that dry out their skin, including soap- or alcohol-based cleansers and shower gels. It usually takes trial and error to find the right routine and product combinations. People may find, for example, they need to apply toners and astringents more sparingly and switch to a creamier cleanser or cleansing oil.
"A foaming cleanser is a lot harsher and can often strip skin from its natural oils," says cosmetic dermatology GP Dr Nyla Raja. "A lot of people often associate a 'clean' feeling for skin that feels tight and squeaky after cleansing, but this is not at all the case. If your skin does feel tight after cleansing, it means that you're stripping your skin's natural oils, which your skin would supplement with extra sebum production – so your skin would ultimately end up oiler."
Dr Mahto recommends using moisturising creams and ointments rather than gels or lotions in the winter months. "Dry skin can benefit from ingredients that will help lock moisture into the skin," she says. "Tried and tested ingredients that have proven their benefit include glycerin, ceramides, urea, hyaluronic acid, lactic acid, and petrolatum."
Winter can cause dry, flaky skin to build up, especially under layers of heavy clothing. A gentle exfoliating scrub should be used once or twice a week to remove dead skin cells, followed by a good moisturiser. If skin is very dry, it may benefit from more regular exfoliation.
Winter suncare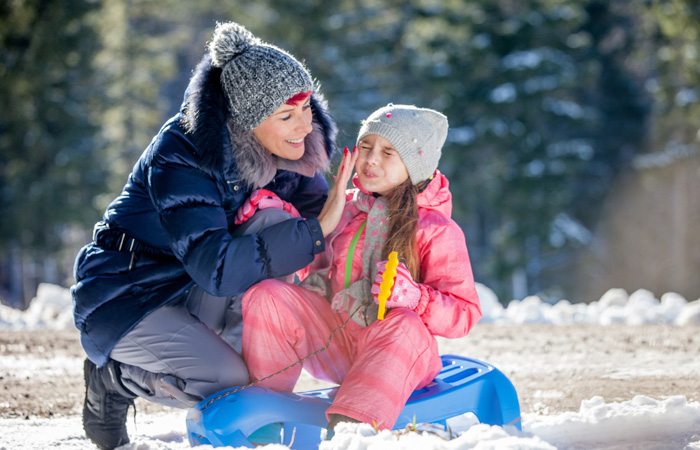 Most people use sun protection products in the summer, but don't think about doing so in the winter months. Yet the sun's UVA and UVB rays can be just as damaging at this time of year, especially when there's snow on the ground. Snow reflects up to 80 per cent of UV light back towards the body, especially at high altitude.
"Wearing SPF daily in the UK, even in winter, is one of the best things you can do for your skin," says Dr Bav Shergill, consultant dermatologist and British Skin Foundation spokesperson. "Dermatologists recommend a broad-spectrum sunscreen with SPF 30 or above on all exposed skin sites. Exposure to ultraviolet radiation increases your risk of skin cancer, wrinkles, age spots, and spider veins."
A broad-spectrum sunscreen protects against UVB, which is linked to sunburn, and UVA, which is linked to premature ageing. While UVB rays often decrease in the winter months, UVA levels don't show a significant decrease at this time of year.
Order of the day
Dermatologists advise that sunscreens should be applied at least 30 minutes before going outdoors and then regularly reapplied every two hours. Apply moisturiser first, then sunscreen, followed by make-up if required.
Wearing a foundation or moisturiser containing SPF may not provide strong-enough protection as SPF only indicates a product's protection against UVB rays. However, this depends on how much sunlight you're getting.
"Studies repeatedly show that we often tend to under-apply our skincare products rather than our sunscreen," says Dr Mahto. "If you are going to work in the dark and leaving in the dark in the depths of December, you probably aren't seeing much sunlight. In which case, if you prefer to wear a moisturiser with SPF it's probably fine. If you work outdoors, do sport or train outside, have extreme sensitivity to the sun, or are simply concerned about your skin cancer risk and skin ageing, then the safest option is to opt for a separate broad-spectrum sunscreen with a minimum SPF 30. And remember – we can all probably do with a vitamin D supplement in the winter months too."
Whole body approach
It's not just skincare products that may need to be re-assessed at this time of year. "Avoid the temptation to have a long, hot bath or shower, as this can strip away much-needed natural oil from the skin," says Dr Bav Shergill, consultant dermatologist and British Skin Foundation spokesperson. "Try and shorten the length of time and remember to keep the water temperature warm, not hot. Apply a moisturiser to skin straight after a bath
or shower while the skin is still slightly damp."
In addition, central heating should not be cranked up too high, as this can reduce humidity in the air. "To help prevent problem dry skin from losing moisture, keep your home at a comfortable temperature of around 20°C," says GP Dr Roger Henderson. "Turn the radiators down low at night to prevent overheating. To add moisture back into the air, consider using a humidifier in your home – just remember to clean it regularly to avoid bacteria and mould growing."
Dr Shergill also recommends being careful with clothing. "Some materials, for example, lambswool may irritate skin and cause flare-ups," he says. "Protect skin with warm clothing – a scarf, hat and gloves – while outside. If the rain makes your clothes damp, ensure that you change into something dry as soon as possible, and don't leave wet clothes in contact with your skin, which may cause further irritation or chaffing."
If your skin does feel tight after cleansing, it means that you're stripping your skin's natural oils
Feed your skin
As the cold weather sets in, it's natural to switch from light summer salads to more filling comfort foods, such as rich stews and casseroles. Despite this, it's important to keep eating a wide range of healthy foods, especially fruit and vegetables that are rich in antioxidants and help to protect and repair skin from damage caused by pollutants. Dr Mahto says while there are no specific superfoods for skin, a balanced diet can help to keep it in a good condition. "Ensuring good fats such as omega-3 fatty acids; plenty of colourful fruit and vegetables; and limiting, but not necessarily restricting, sugar are simple measures which can be taken," she explains.
Drinking plenty of fluids is also beneficial in order to help to hydrate the skin from the inside out. "People often don't drink enough water in the winter, as cold can mask the symptoms of thirst," says Dr Raja. "To stay hydrated while helping you keep warm, try hot water with lemon, which is also loaded with vitamin C to promote a youthful complexion. Many Brits are vitamin D deficient, and many studies have found that vitamin D can help to treat skin conditions such as dry skin, psoriasis or eczema."
Choose your drinks carefully though, as Deborah advises caffeine and alcohol only in moderation. "These are diuretics and dry the skin," she says, adding that "smoking should also be cut back, or cut out."
Sponsored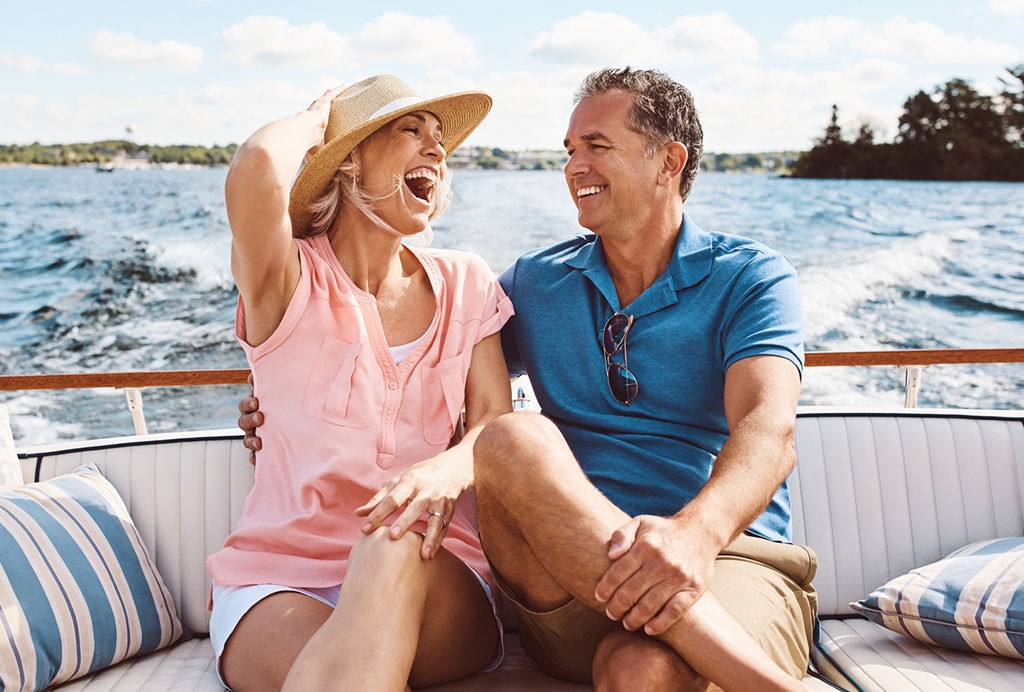 Sponsored education
Learn how to help customers ease the discomfort of haemorrhoids with suitable recommendations and self-care advice
Sponsored education
Bust the myths around acne causes so you can recommend effective products and self-care advice
Record my learning outcomes