Statistics show that even in a society where gender perspectives are constantly at the forefront of public discussion, there is still much to be done to help men come to terms with their mental health.
Approximately 40 per cent of men have never spoken to anyone about their mental health, despite 35 per cent of them thinking they've had a diagnosable mental health condition at some point in their life, according to research conducted by the Priory Group. Indeed, three quarters of deaths registered as suicide in England and Wales in 2019 were among men, a fact that has remained the same since the mid-1990s.
Patient-facing pharmacy team members are in one of the most impactful positions to notice a shift in any customers behaviours that could cause concern.
So, what are some of the most common mental health conditions currently affecting men in the UK and how can pharmacy help?
General mental health issues
According to the 2014 NHS Digital Adult Psychiatric Morbidity Survey: Survey of Mental Health and Wellbeing, common mental health problems such as anxiety or depression are lower among men than women. It is, however, widely thought that these figures are under-representative as problems typically manifest themselves differently between the two.
Due to this, mens' symptoms can often go unrecognised and undiagnosed, and they do not receive appropriate treatment. Men have also recorded lower levels of life satisfaction and, according to the Office for National Statistics (ONS), have reported higher levels of anxiety since monitoring began in 2011. Subtle signs that men could display which indicate something is wrong include:
Spending more time at work or immersed in hobbies as an escape
Drinking more alcohol
Irritability and outbursts of anger
Violent or abusive behaviour
Risk-taking behaviours
Physical symptoms such as digestive problems.
Men's mental health can be affected by a variety of factors. Since the pandemic in particular, Mind have found that concerns about employment and finances have had a significant impact on people's mental health, with 45 per cent of men saying that employment worries negatively affected them and 41 per cent claiming that their mental health was made worse by monetary concerns.
Physical appearance can also play a role. Mind's 2019 Get if off your chest: Men's mental health 10 years on study found that the percentage of men who are worried about their appearance has risen by five per cent since 2009, with the 18-24 demographic being most affected.
Men are less knowledgeable about mental health and hold far more negative attitudes, according to research conducted by Time to Change. Furthermore, they are also more likely to say that mental health problems are the result of a "lack of self-discipline and willpower". Indeed, currently, men make up only 35 per cent of those accessing the NHS talking therapies service for those who suffer from mild to moderate mental health problems such as anxiety and depression.
Reasons for this vary, but according to the Get it off your chest report, other factors include:
Embarrassment – 28 per cent of men would be ashamed to admit they have a problem
Fear – 10 per cent of men said they were afraid of being told they were mentally ill
Lack of information – one of the top three reasons men cited as putting off finding help was not knowing where to start.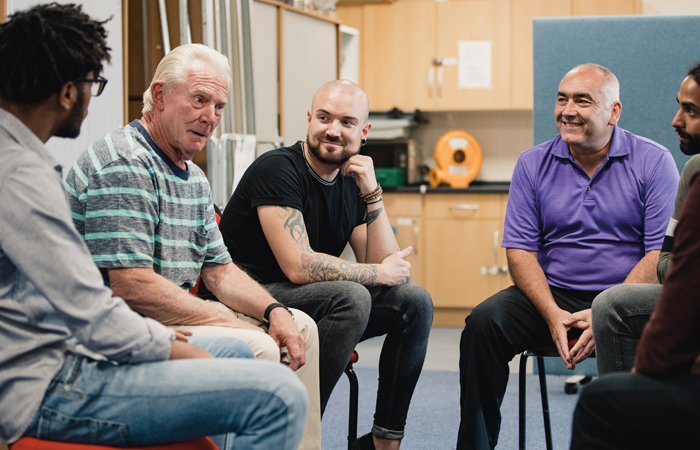 Prostate cancer
One in eight men will get prostate cancer at some point in their lives. Causes are largely unknown but the chances of developing the disease increase as customers age, and it is more common in Black men and less common in Asian men. Those with a father or brother who've been affected by prostate cancer are also more likely to develop the condition.
Prostate cancer usually progresses slowly so customers may not exhibit symptoms for many years. When they do appear, symptoms include an increased need to urinate, straining whilst urinating or a feeling that the bladder is not fully emptied.
Whilst these symptoms should not be ignored, they may just be caused by prostate enlargement which is not usually a serious threat to health and does not increase a customer's risk of cancer.
There's no specific test, but men can expect to have a blood test, a physical prostate examination, an MRI scan or a biopsy. Blood tests or prostate-specific antigen (PSA) tests can also be requested by all men over 50 when visiting their GP and may help to detect early prostate cancer.
Once diagnosed, prostate cancer is usually treated with surgery to remove the prostate or radiotherapy.
Suicidal thoughts
Middle aged men are more likely to die by suicide than any other age group, according to research conducted by the Samaritans. According to Mind, over the last decade there was a steady overall reduction in suicide in the UK until 2018 when there was a significant increase, the first rise since 2013. This was largely driven by an increase among men and the lowering of the standard of proof required to record a death as a suicide, according to the ONS. Samaritans research found that a range of factors can play a role in this including:
Personality traits
Masculinity
Challenges of mid-life
Relationship breakdown
Emotional illiteracy
Socio-economic factors.
It's not all bad news however as the Mind study reports, men are now almost three times more likely to see a therapist when worried or low than in 2009, whilst the number of men who say that nothing would put them off finding help if they were feeling low has decreased by almost a fifth. Furthermore, men are now equally as willing as women to see their GP for their mental health – a large increase since 2009.
"It's really positive that men are more likely to seek help from the NHS and talk to friends and family about their mental health than they were 10 years ago," says Paul Farmer, chief executive of Mind. "As a society we have become more open about mental health in the last decade as campaigns such as Time to Change and Mind's partnership with the English Football League (EFL) have helped to shift stigmatising attitudes and behaviours and this may be beginning to filter through.
"Our survey suggests that a wider range of options might be needed, such as physical activity and social activities, alongside access to talking therapies and medication. Ultimately, men are still three times as likely to take their own life as women, so there is much more to do to make sure men can ask for help and can get the right support when they need it and before reaching crisis point. We call on the Government to respond to this unmet need urgently and for the NHS to be funded to provide a better range of mental health services tailored to the needs of men."
Signposting
It is clear that targeted advice and mental health promotion is needed so that men (and all those suffering from a mental health issue) are aware that they are not alone, and that help is available.
Charities such as Mind and the Samaritans have an abundance of resources such as posters and social media templates that can be displayed in the pharmacy. When discussing mental health with any customer the Mental Health Foundation offers these tips:
Let them know you are there to listen to them without judgement
Try to keep in touch
Explore local services, especially those specifically for men. Visit Hub of Hope (hubofhope.co.uk) to find those available in your area.
Staff should also make sure to look after themselves when dealing with patients and/or colleagues that may have suicidal thoughts as these situations can take a great toll on all those they involve.
If teams feel they could do with some extra support, Mind has an abundance of tips and tricks available.
"Men make up up only 35 percent of those accessing the NHS talking therapies service"

Sexual Wellbeing
Optimal men's sexual health means that men can fully participate and enjoy sexual activity. Many aspects can influence this including physical, psychological and social factors. The most common sexual health problems that men face is premature ejaculation or erectile dysfunction.
Premature ejaculation
Premature ejaculation is where a man ejaculates too quickly during sexual intercourse. According to studies conducted by the NHS, the average time for ejaculation is about five and a half minutes after starting sex (although this time was longer for men who have sex with men). International guidelines therefore define premature ejaculation as regularly ejaculating within one minute of entering a partner.
There are two types of premature ejaculation:
Primary premature ejaculation – where an individual has always had a problem. This is usually caused by psychological factors such as having a traumatic sexual experience at an early age
Secondary premature ejaculation – where they have recently developed the problem. This can be caused by psychological and physical factors such as drinking too much alcohol or an inflamed prostate gland. If caused by a physical factor, treating the underlying condition should help. Pharmacy staff can recommend a number of self-help techniques such as masturbating one to two hours before sex, using a thicker condom to decrease sensation, taking breaks during sex or taking a deep breath to briefly shut down the ejaculatory reflex.
If self help techniques do not work, individuals can be prescribed selective serotonin reuptake inhibitors (SSRIs). These are often used to treat depression, but one of their side effects is delaying ejaculation. Customers will be advised to take an SSRI between one to three hours before sex and no more than once a day.
Erectile dysfunction
Erectile dysfunction (ED) is very common in men over the age of 40 years old and is usually nothing to worry about.
The condition is defined as either being unable to get an erection or unable to keep an erection for long enough to have sex.
There are many factors that could cause erectile dysfunction including stress, tiredness, drinking too much alcohol and some medicines. If it occurs frequently, then it could be caused by underlying conditions such as high blood pressure, diabetes or hormone problems.
Pharmacy team can recommend some basic lifestyle changes such as losing weight if overweight, stopping smoking, eating a healthy diet and exercising daily. If customers suffer from erectile dysfunction and cycle more than three hours a week advise them to stop this for a while.
Medicines for erectile dysfunction are normally called PDE-5 inhibitors and include sildenafil (Viagra) and tadalafil (Cialis Together). Both are available on prescription or over the counter in the pharmacy.
"At least 30 per cent of patients with ED will also suffer from premature ejaculation," write Thushantha Sooriyamoorthy and Stephen W. Leslie in their 2022 book on the subject. "Successful treatment of ED will often alleviate the premature ejaculation, due to reduced performance anxiety. If not, premature ejaculation can be alleviated much more easily once the erectile dysfunction has been successfully treated."
"At least 30 percent of patients with ED will also suffer from premature ejaculation"