Members from across the country – as well as other prominent figures within the pharmacy industry – gathered at the Birmingham Conference and Events Centre (BCEC) for an afternoon filled with inspiring talks, followed by an evening awards ceremony and celebration dinner. The Training Matters team were there to cover the day, posting regular updates to our social media @TMmagazineUK. Here are some of the highlights.
New beginnings
The day started with Liz Fidler giving her final speech as outgoing APTUK president. Reflecting on the last 70 years, and looking to the future, she said: "I hope in another 70 years, future presidents will look back on the 2020s as a decade of change for the profession. I do know that in 2092, the next president will not be asked: what is a pharmacy technician?"
Ms Fidler also introduced APTUK's new president, Claire Steele. Ms Steele commenced her tenure on 1 March and is determined to ensure pharmacy technicians are represented at the highest level and that best practice and knowledge is shared across the UK. Speaking at the conference, she set out her wish list for the next few years which included pharmacy technicians being given professional registration in Northern Ireland and trying to do more to attract people to the profession. You can read the full list and more of Ms Steele's speech here.
The future of pharmacy technicians
The sessions kicked off with Duncan Rudkin, chief executive and registrar at the General Pharmaceutical Council (GPhC) and Cathy Harrison, chief pharmaceutical officer for Northern Ireland, discussing future opportunities for the technician profession. They both congratulated pharmacy technicians on their efforts over the past two years and highlighted how now more than ever is the time for the profession to push forward.
Mr Rudkin described pharmacy technicians as "adaptable, confident and capable" and urged them to "focus on the value you bring with the unique job that you do". Ms Harrison agreed and said that when it came to the integration of pharmacy, we all need to think bigger as there is huge potential in planning and joining pharmacy services together.
"Going forward", she said, "resilience and attitude will continue to be key".
Impact in primary care
Next up was Helen Kilminster, senior pharmacist, advanced clinical practitioner at Tower Hill Partnership Medical Practice. Ms Kilminster spoke of the impact of pharmacy technicians on the primary care sector. "I have been overwhelmed by the quality of pharmacy technicians I've worked with throughout my career," she said. "I have the utmost respect for the quality and due diligence I've seen. You take pride in your role, and it shines through.
"No one can give patient care on their own, it has to be a collaboration and the sustainability of this collaboration is lifelong. I absolutely contest that pharmacy technicians can't be clinical."
Ms Kilminster also spoke of the way pharmacy technicians can play a part in helping to break down health inequalities. "Racism, discrimination and poverty have never gone away," she added. "We should ask: what is it we can do to combat that? It could be you making this difference."
The bigger picture
Ade Williams, MBE (and RoE judge!) was next to speak and he focused on the population health agenda and the way pharmacy technicians fit into it. The agenda, he explains is a "practical, measurable journey of intelligence-led health and wellbeing improvement.
"We need your help, your expertise on population health," said Mr Williams. He lists cultural competence and inclusive practice; professional anti-discriminatory and allyship; population read and trust; and innovation and ambition as "enablers" that show how pharmacy technicians are in prime position to tackle this.
"Pharmacy technicians are not a condiment to the pharmacy profession," said Mr Williams. "The best pharmacy teams have always got a pharmacy technician leading the way.
"There is a sense of fulfilment that divides us from everyone else in the healthcare profession. If we're going to turn up, we might as well turn up with force."
Outstanding opportunities
After these initial sessions, the afternoon also featured talks from pharmacy technicians who work in a variety of sectors across the industry, illustrating just how versatile the profession can be.
Among these was Rachael Fallon, chief pharmacist of the northwest ambulance service, who highlighted the critical support that pharmacy technicians can bring to the service and Andrea Ashton, who discussed the developing role of the pharmacy technician in the Acute and Emergency pharmacy team.
The day ended with the annual awards ceremony, rewarding the cross-sector work of technicians across the UK. In addition, an Honorary APTUK Membership was also presented to Stuart Lawrence, author of Find Your Voice and Be your Best Self.
Sponsored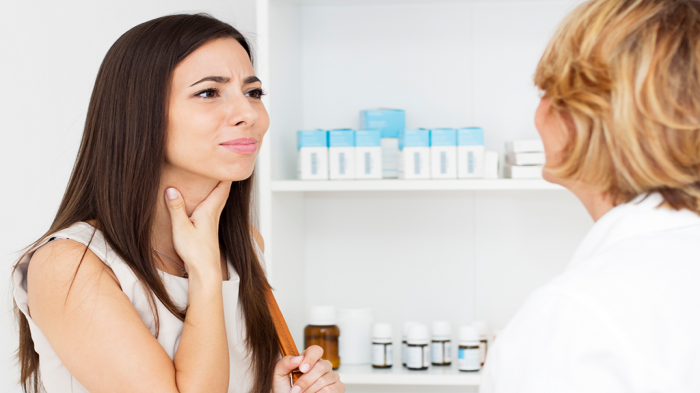 Sponsored education
This module will help you to understand and educate customers about the risks of antibiotic resistance, and recommend products to help them effectively manage their sore throat symptoms.
Sponsored education
Work through a customer consultation to determine the possible cause of stinging, gritty eyes and recommend an effective treatment to help ease these symptoms.
Record my learning outcomes