Pharmacy life
A charitable focus
Kayleigh Marks has a charitable heart and this, combined with her local knowledge, makes her a huge asset to her pharmacy team
It's not everyday that a dog walk forges a new career path for someone, but this was exactly how Kayleigh Marks began working in community pharmacy. As she and her mum ventured through their village of Weedon Bec, Kayleigh noticed a job vacancy available at the local Knights Pharmacy and applied. "The manager here at the time called me up and said 'do you want to come in?' and I said 'yes' and I think I started a couple of days later," she says. It was as simple as that.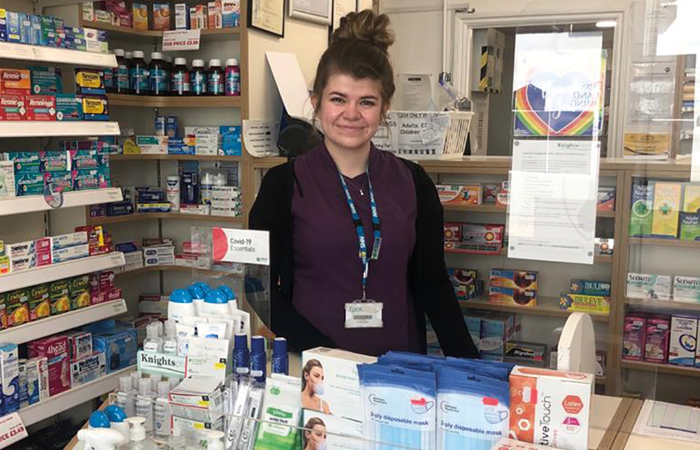 Kayleigh had previously been working in a temporary administrative role at a transport company, but as the maternity cover came to an end, 19-year-old Kayleigh was unsure as to what she wanted to do next.
When she was younger, Kayleigh says she had initially thought about going into one of the medical professions. "When I was at school I thought I wanted to do nursing but then I realised that I didn't really want to go to uni," explains Kayleigh. But what had drawn her to such a role was her interest in people and medicine – something she later found in community pharmacy. "It's just helping people, that's what I like to do, that's why I like this job," she enthuses.
Self-improvement
Kayleigh started part-time in 2014 and only three months later began her combined counter and dispensing training. Six years on and Kayleigh has shown real commitment to the pharmacy, her training and personal growth. She is now a full-time healthy living champion (HLC) and a pharmacy technician, having passed her pharmacy technician course with distinction in January 2020. "It was two years of work, work, work and more work," laughs Kayleigh. "Personally, I have grown in confidence and have got a lot more responsibility in the sense that I know how to do a lot more things now," she says.
In her latest role, Kayleigh gets involved with all aspects of the pharmacy, from serving on the counter to preparing blister packs for patients, putting away orders and managing the pharmacy's phone calls. But her main role is in the dispensary. "I am the main dispenser in the morning and then in the afternoon it is me and another dispenser – she only works part time. Prescription labelling, dispensing prescriptions, making dosette boxes, a bit of everything really," Kayleigh explains.
It's just helping people, that's what I like to do, that's why I like this job
Devil's in the detail
Kayleigh makes the most of her HLC status in a fun and decorative manner through a healthy living promotional zone in the pharmacy (pictured below). She has raised awareness of Dry January, children's oral health, living with diabetes, antibiotic resistance and most recently Every Mind Matters, to name just a few.
The team also get involved with many off-the-cuff ideas to support a range of charities. One Halloween, they all spontaneously dressed up – Kayleigh dressed as a devil, although an angel might have been more appropriate – and the team spent the day raising money for Sunny Days Children Fund. This is a charity that supports children under 18 with terminal illness and other debilitating conditions. The team raised a total of £80 in just one day and surprised the charity with the donation. "It wasn't bad for a day of dressing up and [the charity] weren't expecting it so that was nice," says Kayleigh.
Being able to help out like this is certainly an aspect of the job Kayleigh loves. "I enjoy feeling rewarded in the sense of knowing that I have helped someone else. If I know I can do something for someone then I want to do it and I feel bad if I don't do anything. Making someone else better or happy makes me feel accomplished," she says. Her position in the pharmacy means she can do just that, supporting people through fundraising like this on top of her work supporting local customers with their health and wellbeing needs.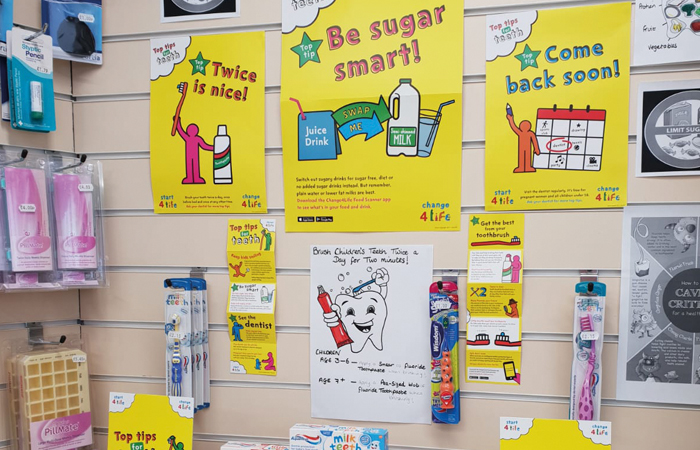 Local touch
Living in the village where the pharmacy is situated means Kayleigh has good connections with her customers, which she thinks is a important and beneficial aspect of community pharmacy. "Because I am local to the village a lot of people know me already and now I have been here quite a long time they know me by name and I know them by name," says Kayleigh. "We are familiar with them and almost have a form of friendship as well."
This local touch really makes a difference, as the team have seen throughout the Covid-19 pandemic. With other pharmacies in the area closing, the pharmacy received an influx of new customers needing prescriptions and it seems like these customers are here to stay – a testament to Kayleigh and the team. "We have prescriptions from all over the place from people we have never heard of before," says Kayleigh. "People that maybe lived in the village that chose to go to another pharmacy, for whatever reason, they are now here and have said that it is actually better. They have said 'we have realised it is better to come to you' so we have gained [prescription] items and people through that way."
We are familiar with [customers] and almost have a form of friendship as well
Best of a bad situation
The pharmacy's small team of four in-store staff and two delivery drivers received external forms of support throughout the pandemic. Local volunteers left their mobile numbers to help out with deliveries and the team were able to make the most of their connections to other branches of Knights Pharmacy too, which Kayleigh says has been a real help. "We are obviously part of a massive chain so we got in contact with our other pharmacies and asked if anybody could help out with anything that was outstanding so it was really nice to have the support from all the other Knights pharmacies as well," she explains.
Kayleigh and her team also collaborated with the local dentist. When the pandemic forced dental surgeries to shut, many people did not know where to turn, but Kayleigh and her team were able to help. The local dentist put together emergency dental packs for customers, which the pharmacy then sold. "The local dentist actually made up little packs of gauze and temporary filling with instructions and with their phone number on," explains Kayleigh. The packs cost £2 each and £1 from each sale was split between two charities: the Air Ambulance and Guide Dogs. Kayleigh says she thought this was a great idea for customers who needed dental care. It also enabled the pharmacy to make the most of a bad situation and play a key role in supporting both the charities and the customers.
Extending support
So what's next for Kayleigh? She says she would like to spend some time settling into her new role as a pharmacy technician, but in the next few years she hopes to continue with her training. "Maybe in the next year or two I'll get started on the ACT course so I can become an accuracy checking technician and then I can potentially help out at the other branches," she says. "We have got bigger branches that could benefit from help with a pharmacy technician – that would be my next step."
Sponsored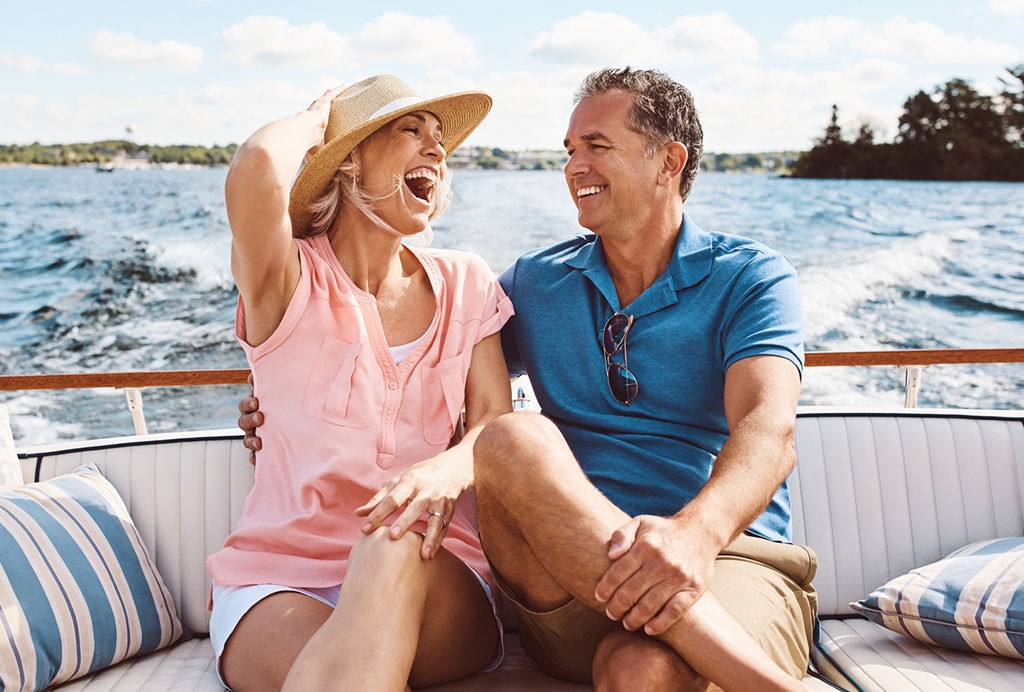 Sponsored education
Learn how to help customers ease the discomfort of haemorrhoids with suitable recommendations and self-care advice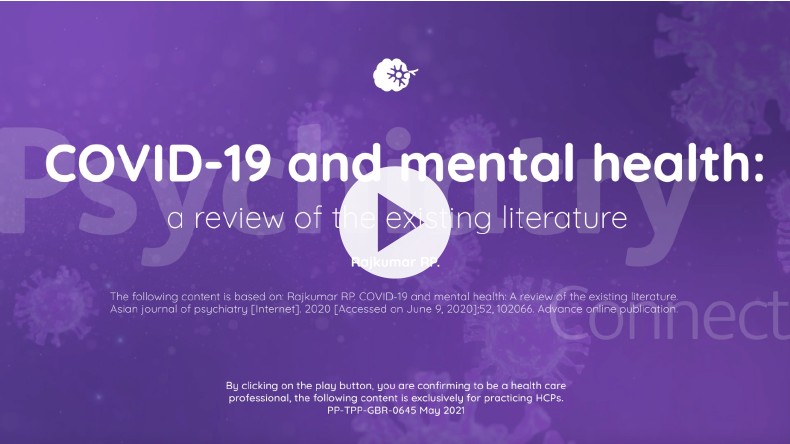 Sponsored education
Viatris has created this short video based on a publication reviewing global research into the potential impact of the Covid-19 pandemic on mental health. It identifies six areas where psychiatrists can play a role in supporting people's mental health through these difficult times.
Record my learning outcomes