Two years after winning TM's Recognition of Excellence Rising Star Award, Jacqueline Douglas's career is going from strength to strength
When TM first spoke with Jacqueline Douglas in 2020, she was a year into her pharmacy career, having started in the Forfar branch of Boots in February 2019. "I have always had an interest in the human body, science and learning," she said at the time. "So, when this job came up, I went for it and was delighted when I got it."
Two years on and, despite the impacts of the pandemic, Jacqueline's career is going from strength to strength, and she is now nine months into her training to become a pharmacy technician. "It's been so busy with Covid, so it's just quite nice to have something to focus on," says Jacqueline. "There's a lot of studying, so you don't really get a chance to sit and think. You just have to get on with it."
Stop smoking star
Back in 2020, Jacqueline's responsibilities included looking after several patients on the pharmacy's smoking cessation service, something she continues to feel passionate about. "They're still my favourite patients," she says. "It's so important to remember we're here to support them. I make a mental note of why they're stopping, to help them with motivation and to tailor it to each individual, whether it's money or health, so that I can ask: "Have you tallied up how much you've saved?" or "How are you feeling health wise?".
"I think it really empowers the patient to take ownership of their mission to stop smoking and I love when they do really well. I'm always so proud of them. You just feel like getting the pompoms out and cheering them on!
"It's rewarding to know that you've had a part in that, because it is a big deal and they see health benefits so quickly as well. It's a win win for everyone really."
A safe space
Aside from being a key part of the smoking cessation service, Jacqueline endeavours to make the pharmacy a safe space for the community to visit, whatever their reason may be. When we last spoke, an incident involving a customer who needed private support had spurred her to speak with a member of the wider Boots team.
"I privately messaged head office asking if Boots could be promoted as a safe place for anyone who needed it," she said. "I got a reply from the assistant manager of corporate responsibility, who thought it was a great idea and said she would put it forward."
Boots then launched its Safe Space scheme, the basis for its 'Ask for ANI' initiative, which allows those at risk or suffering from abuse to discreetly signal that they need help, a move Jacqueline has welcomed. "I do make it clear to my customers and patients that we're here any time by phone or by popping in, so I think they all know by now that they can talk to me about anything."
As the pandemic has put mental health into crisis across the country, Jacqueline's idea of a safe space encompasses people struggling in all different capacities.
"I was quite worried about one of our gentlemen customers, so I phoned the GP and asked him to get in contact with the man," she explains. "I spoke with him yesterday and he said the GP phoned him within an hour of leaving the pharmacy and it has really helped.
"I was really glad to hear that when I had a concern about someone, they acted on it. It's so important that we're keeping an eye on our regular patients. It's all part of the safe space idea."
Sharing wisdom
Jacqueline's 2020 nomination focused largely on her desire to learn more. This is still very much the case, and alongside her own training, she is now helping her new colleagues to learn.
"We have a new start who's got no pharmacy training. She's started her pharmacy advisor course, so she's very much at the beginning. But she's got my number and I'm up studying anyway, so she'll text me at home if she needs to ask anything," explains Jacqueline.
"I really do enjoy training other staff. And we're a good team. I think that's what's really helped through the pandemic as well."
Jacqueline's own learning is also very important to her. "I'm in the clinical modules at the moment, and already just from this month of clinical training, I've been able to help counsel patients better. I really feel the difference of it already."
The next two years
When she's not at the pharmacy, Jacqueline's time is taken up by her family and her pets. "Spare time is a thing I don't have a lot of," she says. "I have a husband, three kids, a dog and a horse, as well as studying and working 30 hours a week, so it is a bit crazy. It's regimented – even my sitting down doing nothing is planned!"
Despite this, Jacqueline's plans for her future in pharmacy are big. "I want to complete my technician training," she says. "Then it would be lovely if I could move on after that and do the ACT course as well, which is something Boots very much promotes."
"I love my job," she continues. "You really get to know your patients, which is such a rewarding part of the job. You just have such lovely conversations every day. We're in such a privileged position to help the community."
In 2020, Jacqueline said that winning the Rising Star Award truly cemented her feeling that "this is the right path". Her career over the last two years has only further proven that her feeling was spot-on. The TM team can't wait to hear what she does next.
Sound familiar?
If you feel like you have a special story to share about the times you've helped a customer in need, spotted something that led to an important diagnosis or even when you managed to keep your team's spirits up throughout the pandemic, we want to know about it!
Enter yourself or nominate a colleague for the Recognition of Excellence Awards 2022 today.
Sponsored
Sponsored education
This module highlights a new opportunity to treat heartburn and reflux in the pharmacy with Omeprazole 20mg, which is newly available for customers to purchase OTC.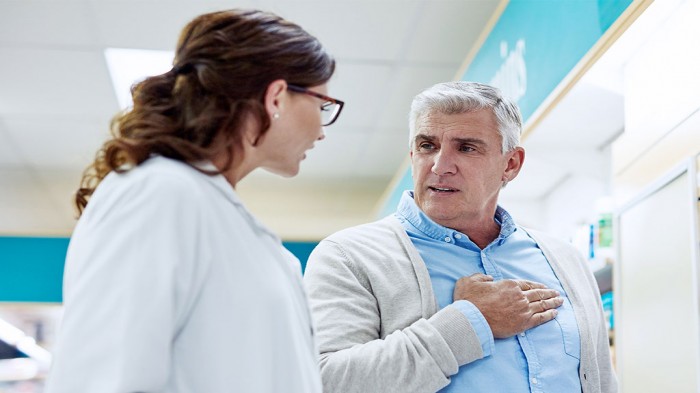 Sponsored education
Discover the key benefits of Guardium so you can recommend this PPI with confidence to help ease heartburn and acid reflux symptoms
Record my learning outcomes