Leading the way in health campaigns
Pharmacy life
Leading the way in health campaigns
Pharmacy technician Elaine Day takes a leading role in her pharmacy's health campaigns and hopes to further her role as a supportive pillar in the community
Elaine Day began her career in 1982 at a pharmacy in Barnoldswick on the Yorkshire-Lancashire border. Since then, she's worked for 14 years at a pharmacy in nearby Earby and dipped her toe in the world of hospital pharmacy, before returning to community pharmacy in 2007 as she missed the customer-facing aspect of the role.
Now pharmacy technician and health champion at Carleton-in-Craven Pharmacy – a Numark member – in Skipton, North Yorkshire, Elaine (pictured below, right) loves her job and hasn't looked back. She says: "Pharmacy can have its ups and downs but I enjoy lots about the job, especially working in such a good team and all the customer interaction. I just enjoy pharmacy full stop."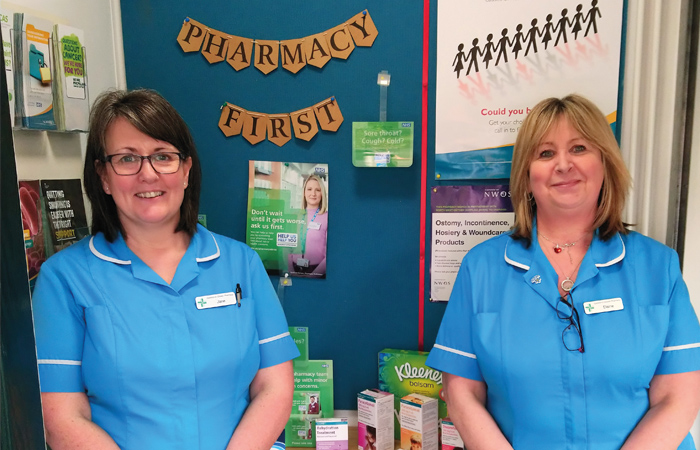 All change
Some 37 years after starting her pharmacy journey, Elaine says she has seen many changes in both her role in a pharmacy team and in pharmacy itself, particularly when it comes to technology. "There were no computers when I first started. It was all hand written labels and prescriptions," she explains. "Next came the typewriter and then I had to learn how to use a computer and that's obviously how everything is done now."
Elaine is positive about this progress and mentions that it only makes processing and dispensing prescriptions easier and more efficient for her and the team, as well as for the customers, which is always a bonus.
As well as the change in technology, Elaine says that pharmacy support staff roles have also significantly shifted and workloads have increased. "We are much busier now and that's why everyone has more fluid roles – bigger roles. It's good to be a lot more involved," she explains.
While each member of the 11-person team has their official job role, Elaine says that everyone also has the ability to step up and do what needs to be done as needed, and on a personal level she's "enjoyed doing it all".
Whether it is checking orders, dispensing or labelling behind the scenes; on the shop floor; or working on health awareness campaigns, Elaine says she and the rest of the team work incredibly hard doing "anything and everything" and are "always there to support each other".
A healthy living focus
Elaine is making headway with promoting a whole host of health campaigns using the pharmacy's healthy living zone, which despite its small size, still has a big impact. "Our display is in a prime spot, right in front of the front door," Elaine explains, which means it's visible to all customers walking in.
The team has covered all kinds of topics, including heart health, healthy eating, dental health and stopping smoking, which involved the team using their trusty over-sized cigarette prop. Elaine is focused on making sure that their campaigns are as engaging, accessible and creative as possible, as well as appealing to all age groups.
In 2018, Elaine and dispensing assistant Jane Morphet (pictured above, left) attended a workshop run by the North Yorkshire Local Pharmaceutical Committee on how to make best use of health campaigns, which followed on from their health champion training. Jane says that they found the workshop incredibly useful, commenting: "We learned an awful lot of tips, hints and advice to make our campaigns look presentable without being overbearing with information."
The customer response to all their campaigns makes their hard work worthwhile and Elaine says they've been pleasantly surprised by the number of people showing an interest and taking leaflets during different campaigns, with one of the most popular being on diabetes.
Jane highlights that there was really positive feedback from customers, especially regarding the resources they provided within the pharmacy. "Customers are always like 'can I take this?' and we say 'of course!'," she says, adding that "people gravitate towards the display in the corner, especially when there are little bits and pieces to take away. Kids are often really interested too, especially when we have things like balloons." And getting children interested in health from an early age can only be a good thing.
Knowing that these resources are valued by their customers, Elaine and Jane focus their efforts on sourcing them in the run up to different campaigns, although Jane notes that this isn't always easy. "We have found trying to gather resources for the campaigns very difficult at times, especially the mandatory ones. Sometimes you don't even get any resources until you're halfway through a campaign." As such, the team always have to think outside the box and find different ways of getting their messages across to customers.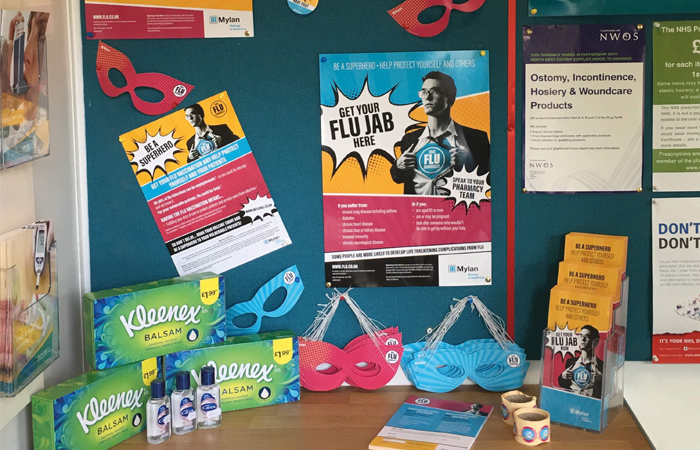 I just enjoy pharmacy full stop
Pharmacy priorities
Elaine prides herself on the fact that many customers visit the pharmacy first for advice about their health before going anywhere else – it's all about putting customers first, building relationships and instilling trust within the local community, she explains.
Jane agrees, saying: "We get personally recommended by many existing customers and we love to welcome new customers to the pharmacy. At Christmas we are inundated with cards and gifts because customers rely on us and we do a good job."
The team know most of the customers by name and truly care about their wellbeing, making sure there is always time for a chat with everyone coming in and offering additional support when needed.
One element of Carleton-in-Craven Pharmacy's service that receives most recognition is its prescription delivery service. Elaine says this involves an element of social care as the pharmacy team member might be the only person to see the customer that day or week. "We are a lifeline to customers and it is often us that alert the doctors if we see something is wrong," Jane adds. "The customers know come hell or high water we deliver; we provide a service people rely on and that's all they really want." This attitude amplifies how each member of the pharmacy team views their role as something more than just a job, but a genuine foundation of care in the community.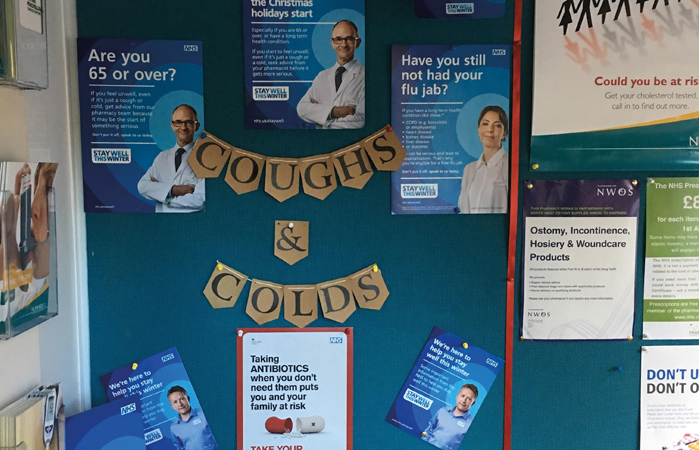 No stopping now
The team at Carleton-in-Craven Pharmacy is well aware of the new and increasing pressures within the pharmacy environment, especially when it comes to mounting workloads and medicines shortages. But, they remain positive that their strong bond – both among the team and with their customers – will continue to ensure the pharmacy delivers.
Committed to maintaining a high level of customer service, Elaine is also finding other ways to support her customers and expand the pharmacy's involvement in all aspects of community life.
Throughout her career she has been involved in outreach programmes and this is certainly on her radar going forwards. "In my previous role we would go to sheltered housing, libraries and coffee mornings and explain our services and how we can help. We would explain that customers could come to us for help," she says. "Furthering our community outreach is the next step for our pharmacy."
Elaine values each and every member of the team and says she wants to "get everyone involved because it is so good to have everyone's input". She therefore has grand plans for future campaigns and aims to give each member of the team an individual role.
Having had such a positive impact in the community already, Elaine's hopes to expand the pharmacy's outreach programme with the other members of the team promises that there are more good things to come for everyone in the village.
Sponsored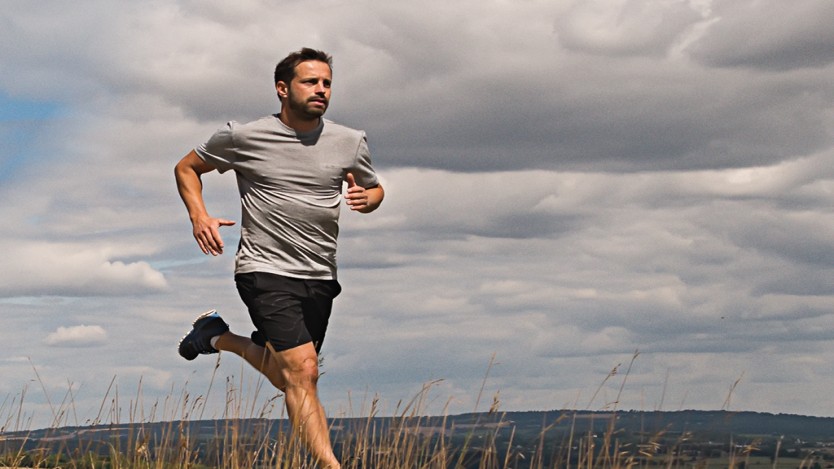 Sponsored education
Make the right recommendations to support customers to stop smoking
Sponsored education
This module highlights a new opportunity to treat heartburn and reflux in the pharmacy with Omeprazole 20mg, which is newly available for customers to purchase OTC.
Record my learning outcomes