Putting training into practice
Pharmacy life
Putting training into practice
Zowie Thomas has a lot to offer her new pharmacy. Find out how she hopes to put her training and experience to good use and make a difference
It was the family influence that encouraged Zowie Thomas to enter the pharmacy profession. Her sister originally worked for LloydsPharmacy and sparked her interest over catch-ups after work. "Demi used to come home with all of this knowledge about drugs and about how they work and that's what interested me – knowing what these specific drugs do and how they help people", explains Zowie. Working for Amazon at the time, she soon applied for a job at a LloydsPharmacy near her home in Baglan, South Wales, and has been working in pharmacy now for five years, across three different pharmacies in the chain.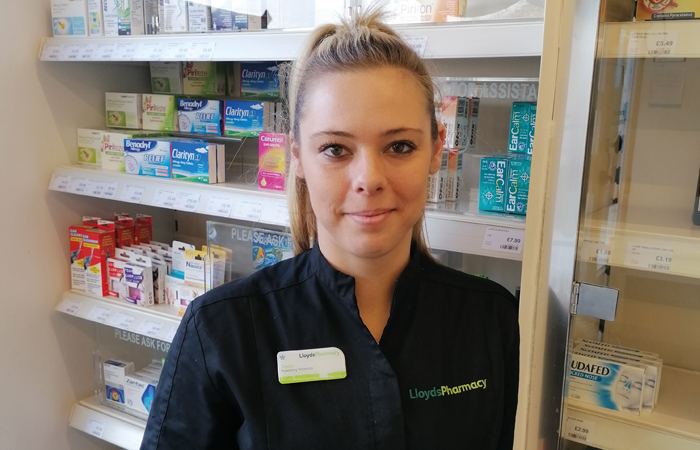 Zowie joined LloydsPharmacy's Andover branch in Hampshire in December after qualifying as a pharmacy technician and is now in the process of completing her accuracy checking technician (ACT) course.
A lot to offer
In the meantime, Zowie is putting her current training to good use. She is trained in a number of services, including vitality services such as blood pressure, diabetes and cholesterol checks, and has encouraged the introduction of these at her new branch.
In one of her previous positions, Zowie says she struggled to offer vitality services as much as she would have liked. "There was only myself in for five hours of the day alone so being taken out for the 20 minute service wasn't really appropriate," she explains. But she hopes now in her new position there will be more opportunity to flex her skills, benefit customers and expand the pharmacy's professional scope. "Nobody is trained here at the moment, but with me being trained they are going to push for it. So that will be another service we can offer," she adds.
But her knowledge and training in services is not all Zowie has to offer. She is also trained in the company's prescription assembly solution (PAS) initiative. In fact, Zowie worked in one of the first stores where the automated system for dispensing prescriptions off-site went live. Luckily for Zowie and her new team in Andover, the system has recently been introduced at the pharmacy and so she is looking forward to being able to help teach the other staff members about the new system. "The advantage now that they have got is that I've come here knowing the ins and outs of PAS because I've done it for such a long time in Baglan," she explains. "I can train them and I am here constantly for them to ask questions as well."
What's new?
It is clear that Zowie has a lot of opportunity to put her training and experience to good use in her new pharmacy, but she says she still has things to learn herself. This is mainly due to her move from working in pharmacy in Wales to pharmacy in England. Although a lot of the dispensing is the same as in Wales, Zowie says she is adapting to some of the country-specific changes that exist – especially the differences in prescriptions. She explains: "The prescriptions are completely different. They have electronic prescriptions here in England, whereas in Wales they didn't so I'm still getting used to that at the moment. Obviously exempt and the non-exempt, having proof of exemption, those things I'm still getting used to."
Zowie is now working closely with her other team members to improve her understanding and is taking it all in her stride. This isn't a surprise as the continuous opportunity to learn that her role provides is an aspect of the job that really drives Zowie's enthusiasm. "It is a job where you are constantly learning, no matter how long you have been there I think you will learn something new everyday," she enthuses.
Looking to the future, Zowie aspires to progress to a managerial position and hopes to continue to help other stores and colleagues as she climbs the ranks.
It is a job where you are constantly learning, no matter how long you have been there I think you will learn something new everyday
Friendly faces
Working closely with her new team, Zowie says that everyone has been very welcoming and helpful whenever she has had questions. She says she especially admires the way her team interacts with the customers.
"This shop is very small so regardless of whether you are in the dispensary or in the shop you still get to see the customers coming in and you can recognise voices," she explains. "A couple of the girls I have been working with the past couple of days, they hear the voices of the customers coming in and they go straight over to them and say hey how are you, how's your day?"
Being new to the pharmacy, Zowie hasn't had much opportunity to get to know the customers in this way just yet. However, she is keen to do so and believes this is a very important aspect of the job. "I think most definitely that having a good relationship with the customers is important because then you're on a personal level with them and then they feel a lot more important then as well".
Sponsored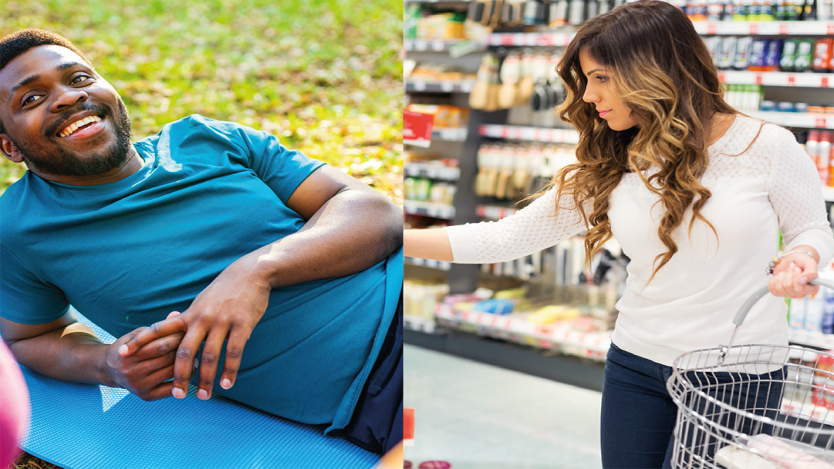 Sponsored education
Learn how to recommend the most suitable emollient for your customers in this interactive video
Sponsored education
This short video explores the myths around diarrhoea management so you can better support customers who are affected
Record my learning outcomes