Recognition of Excellence 2020
Aileen McLachlan
For this year's Technology Champion Aileen McLachlan, it really has been a case of 'zero to hero'. A self-confessed tech novice, she was suddenly faced with being the main contact for the pharmacy's new robot, and she more than rose to the challenge
Aileen has worked in pharmacy for 20 years. While she has gained a huge wealth of healthcare knowledge during this time, including qualifying as a dispensing assistant, she has never been particularly confident with computers. Or at least she wasn't until the management team decided to install a robot at Right Medicine Pharmacy in Winchburgh, near Edinburgh, last June.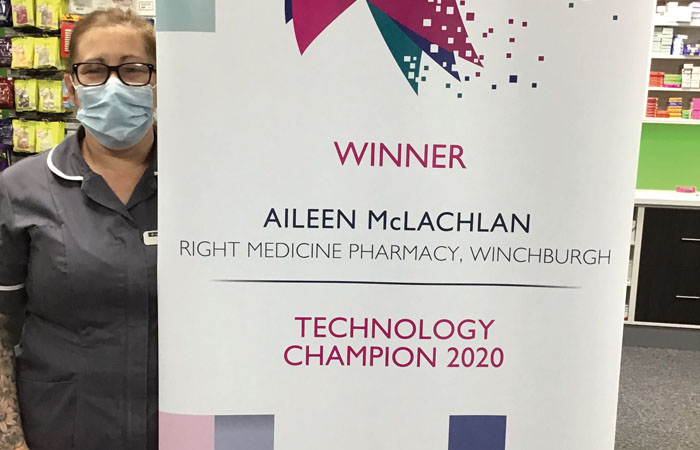 "I was very wary to start with," says Aileen. "I don't consider myself to be tech-savvy, so this was an enormous challenge for me." However, having been told that she would be the main contact for working the robot, she thought: "Well, I'd better get on with it!"
Saving time, relieving pressure
The pharmacy held an open day to show the community how collecting a prescription automatically from the robot would work, and they held a competition to choose the robot's name. He is now affectionately known as Spencer. Although there were teething problems initially, Aileen and Spencer are now best friends and he's become a key part of the team.
"When a prescription is ready, the customer receives a text with a unique code for collection. This code lasts for four days. In order to be safe, if there is a problem with a collection – for example, if the customer takes too long inputting their code – the robot will shut down completely and will need me to get it up and running again," Aileen explains. "This is so that a following customer doesn't receive somebody else's medicine in error. The shop gets an email, head office gets an email and myself and the manager get texts saying that the robot has shut down and needs to be reactivated."
With the system available to patients 24/7, this could potentially happen at any time of the day or night, and it did once happen at 11.45pm. Aileen and the pharmacist had to go to the pharmacy and reactivate Spencer and they've since made a change so that it's less likely to happen again. "To cope with this particular teething problem, we altered the programme so that each customer has a little bit more time to input their code" says Aileen.
Spencer is one of only two community pharmacy robots in Scotland at the moment, but Aileen would recommend the technology to anyone. "It frees up your time for other things and is a real bonus to the pharmacy and the community," she says. "When we see people collecting their medicines, it's a great feeling to know that we are using this time to do something else."
An automation ambassador
According to Richard Stephenson, Right Medicine Pharmacy's chief operating officer, what Aileen doesn't know about the robot is not worth knowing. "She is the person who will respond to out-of-hours errors and also ensure the upkeep of the machine," he says. "She has been such an ambassador of the system – it is a joy to see."
Being nominated for the Technology Champion category was a lovely surprise for Aileen, particularly as it's such a new area for her. "My skills have gone from zero to being the first port of call for the robot," she says. "I have even got more confident with computers in the course of my daily life. I really love working on this – me and this robot are intimately acquainted. If anything goes wrong, I sort it out!"
The RoE judges could not help but pick up on Aileen's enthusiasm and her willingness to embrace the innovative technology, despite her initial reservations. "Aileen has demonstrated that she is proactive and thinks outside of the box," says AIM chief executive Leyla Hannbeck, while Richard Dunne, senior manager professional learning and development at Walgreens Boots Alliance, adds: "Aileen has seen how engaging patients and other professionals in the use of new technology is key. Taking the mystery out of technology in pharmacy is important."
Upon receiving her award Aileen said...
"It's not often I'm lost for words, so there you go! I certainly did enjoy my prizes".
Sponsored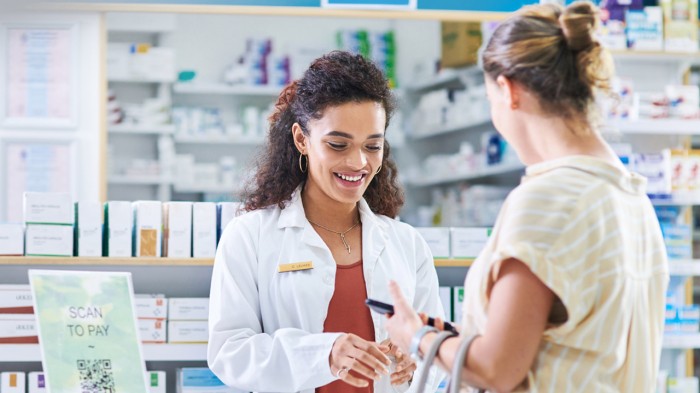 Sponsored education
Refresh your knowledge on managing mild to moderate pain and understand when a combination product can help.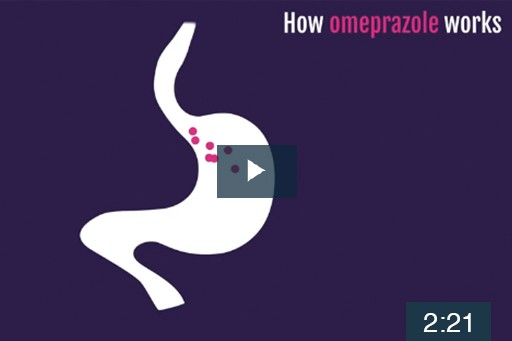 Videos
Understand how omeprazole 20mg works to treat heartburn and acid reflux symptoms
Record my learning outcomes
Recognition of Excellence 2020