Recognition of Excellence Awards 2021
Patricia Murtagh
Fiercely dedicated and always going the extra mile, Patricia Murtagh is described by her pharmacy director as "a rare gem" and she is fully deserving of the Outstanding Contribution accolade
At the end of her Outstanding Contribution Award nomination for Patricia Murtagh, pharmacy director Nuala Harkin said: "Like all the people who make a difference, Patricia finds it very difficult to accept any praise, so we're not sure what her reaction will be to being entered for this award."
Well… Patricia's reaction was, as Nuala suspected, initially to reject the fact that she deserved any award at all. "I'm just doing my day-to-day job the best I can," she said. But having thought about it, she said that if she did deserve recognition, then so did the whole Harkin's Pharmacy team, including their wholesaler delivery drivers, without whom they would not be able to supply their customers.
Giving back
This generosity of spirit is evident in everything that Patricia does – for her patients, the wider community of Maghera in County Derry, and for her colleagues. She has been part of the Harkin's team for nine years, and she throws herself into everything. "Vivacious and fun, she is a daredevil who has jumped from planes, abseiled down buildings and taken part in marathons for charity," adds Nuala.
The sky dive was done to raise funds for an autism charity – a cause close to Patricia's heart as one of her two boys has autism. She has also completed a sponsored walk to raise money for the air ambulance, and has been instrumental in putting in place a range of other local charity initiatives at the pharmacy. These include the 'Ask ANI' domestic abuse support service, becoming a collection hub for the local Hygiene Bank and recycling blister packs for the Kicks Counts charity. "I think it's important to fund your community," says Patricia. "It's nice to give something back."
Covid battles
When Covid-19 vaccination time came around, Patricia was only too glad to volunteer once again, returning after her 9am-6pm shift to help from 7pm-11.30pm. "A lot of people seemed quite scared, and it felt great to be able to put them at ease and reassure them," she says. "Vincent, the pharmacist, was really good at doing the jabs. Afterwards, [the patients] would come for a chat with me. I'd have some music on and after 10 minutes make sure they were feeling grand and were happy to go. It was nice to see."
The start of the pandemic was a difficult time for Patricia on a personal level. "My work kept me strong," she says. "Being able to do something that could help make things a little easier and less scary for our customers – I had to try. I like to roll my sleeves up and get stuck in. If something needs to be done and I can do it, I'll do it."
Nuala describes how Patricia's willingness to get stuck in saw her "tirelessly and unquestioningly disassembling shelving units, moving display stands and reorganising the entire pharmacy to ensure a safe environment for patients and staff".
Then, in August 2020, the company bought a second pharmacy. "It was a steep learning curve and upheaval for everyone at an already highly unusual time," says Nuala. "The support from Patricia – and the other staff – was, and is, incredible, as we navigate another new adventure together. As a customer once said, 'It's hard work making it look this easy' – and that is what our Patricia does."
Congratulations and celebrations
The judges were bowled over by Patricia's achievements. Richard Stephenson, chief operating officer at Right Medicine Pharmacy, says Patricia's was "a contribution like no other", while Mike Holden, associate director at Pharmacy Complete, adds that "Patricia gives her all to her patients, the community and her team."
Sponsored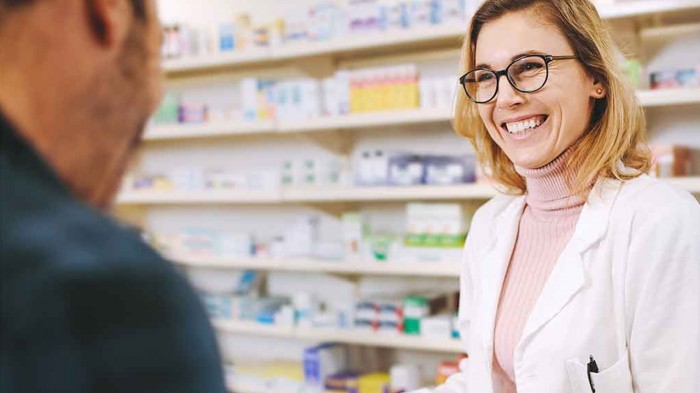 Sponsored education
Update your knowledge on a POM to GSL hayfever switch with this short video
Sponsored education
Bust the myths around acne causes so you can recommend effective products and self-care advice
Record my learning outcomes
Recognition of Excellence Awards 2021