With Pancreatic Cancer Awareness Month approaching, there are plenty of opportunities for pharmacy teams to get involved, educate their communities and make a difference
Supporting people's health is the mainstay of community pharmacy, but for Bedminster Pharmacy in Bristol, it is somewhat of a passion project. Whether it's encouraging healthy lifestyles, recruiting for flu vaccinations, or raising awareness of antimicrobial resistance, the pharmacy team is full of ideas for how to get health messages out and make a difference.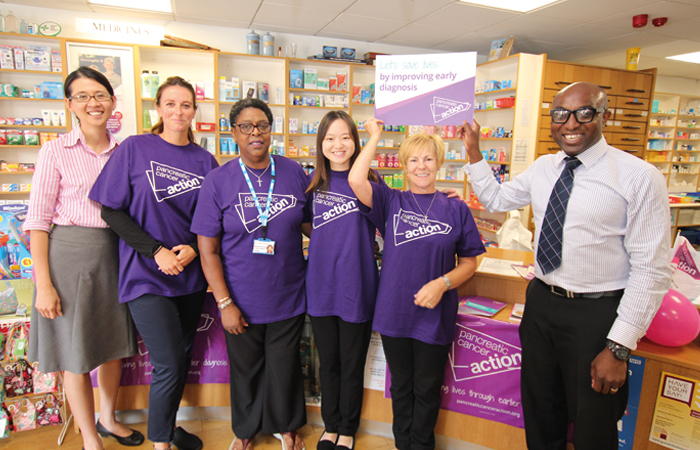 Led by pharmacist Ade Williams, the team is always on the look out for interesting ways to switch up their awareness-raising activities, a key example being a chance meeting with Pancreatic Cancer Action (PCA) at last year's Pharmacy Show. "One of the things that struck me was that here was a charity that was championing a particular clinical area [and] had identified that community pharmacy had a key role to play," Ade says. "The story about Ali [Stunt, the PCA's founder and chief executive] is inspiring as well because you see something that is such a personal tragedy and her turning that in to an opportunity to make a difference. That's something that really got myself and the team thinking this is something we wanted to get involved with."
The facts
Survival rates for pancreatic cancer are the lowest of all cancers and early diagnosis is crucial. However, a recent Pancreatic Cancer Action survey has suggested that 95 per cent of people have little or no knowledge of the symptoms of pancreatic cancer. As such, diagnosis often comes too late for successful treatment and only five per cent of those diagnosed survive beyond five years.
New research also shows that by 2026 pancreatic cancer will become one of the UK's top four cancer killers (it's currently number five) and by 2050, deaths from pancreatic cancer are predicted to be 25 per cent higher than breast cancer in the EU.
These statistics certainly struck a chord with Ade and his team at Bedminster Pharmacy. He says: "Cancer itself is a tragedy for anyone but I know that this particular one has such bad outcomes, you almost feel challenged to think even if you only make a difference for one person, that's a significant statistic there."
Turn It Purple
Ade and his team were inspired to take part in PCA's Turn It Purple campaign last November and had three objectives. The first: to raise awareness about the condition, which meant that everyone that they dispensed for received information on what symptoms to look out for. The messages didn't stop at the pharmacy walls, however. Recognising that housebound patients should be informed too, the pharmacy's delivery driver Shirley Jamieson – who is no stranger to TM after winning the Pharmacy Champion category at this year's Recognition of Excellence Awards – took it upon herself to do just that.
The second objective was to make the 30-day campaign as impactful as possible and this meant making use of the PCA resource pack, which contained all things purple, from balloons and banners to t-shirts and donation tins, and decorating the pharmacy's healthy living zones and counter area. Ade also sported a fetching purple wig, which, even months later, is a source of amusement for the staff.
Thirdly, they wanted to promote that the pharmacy team is there to offer information as well as a listening ear for anyone who has symptoms they are concerned about. "I think we have the resources, the knowledge, the people and the contacts," says Ade. "I think for us, not to be involved in a very proactive, front-line way with our role would be diminishing that."
Ade explains that their involvement in the campaign has triggered lots of conversations in the community. Something as simple as a customer saying to a friend that their pharmacist was wearing a purple wig when they went in to collect their prescription is enough to spark interest and discussion, which the team think is a hugely positive result.
Rewarding hard work
To recognise these efforts, PCA launched its Turn It Purple Pharmacy of the Year Award, with Bedminster Pharmacy winning the inaugural award (pictured). Lu Constable, PCA's marketing and communications manager, says: "Bedminster Pharmacy went above and beyond to raise awareness of pancreatic cancer within their local pharmacy in Bristol and the wider community; the award was extremely well deserved."
Ade is keen to encourage pharmacies to enter this year to increase the visibility of pancreatic cancer messages: "We feel that what we do is just a small example of what can be happening, and should be happening, across the country and we hope it's going to get people really excited as well. This is our opportunity to show that we can do this and we can do this very well."
Get involved!
Pancreatic Cancer Action's Turn It Purple Pharmacy of the Year Award entry pack will give you everything you need to know in order to enter the award and raise awareness of pancreatic cancer in your pharmacy, including:
Fundraising and awareness materials (e.g. banners/balloons/leaflets)
Pancreatic Cancer Action t-shirts and 'Turn it Purple' materials such as photo props and a selfie frame
Tips and guidelines for social media and getting in touch with local press
How to access pharmacy e-learning
Planning mode
Ade and his team are already thinking up ideas for what they can do to make 2018's activities bigger and better and after reflecting on last year, there's a clear area for them to develop. "For us, we're thinking about non-native English speakers," says Ade. "Really, there's a whole pocket of people who the message is not getting across to so really we're challenging ourselves in terms of how do we reach out to them more."
Between them the Bedminster Pharmacy team speaks around six languages, from Polish and Malay to various Chinese dialects, so there's plenty of scope to put their skills to good use and spread information further around their community.
This is our opportunity to show that we can do this and we can do this very well