Recognition of Excellence Awards 2022
Suzanne Wyatt
"Suzanne has consistently reached out to patients who she feels is struggling and could do with extra support, making time to speak with those patients at length and build trusting relationships," says pharmacist Emma Kilbride, who nominated her for the Customer Care Award
Having worked in pharmacy just over four years now, Suzanne shows a real determination to make sure both she and her team are the best they can be for their patients and each other, showing customer care daily. "I just do it because I think that's how we all should live life," she explains.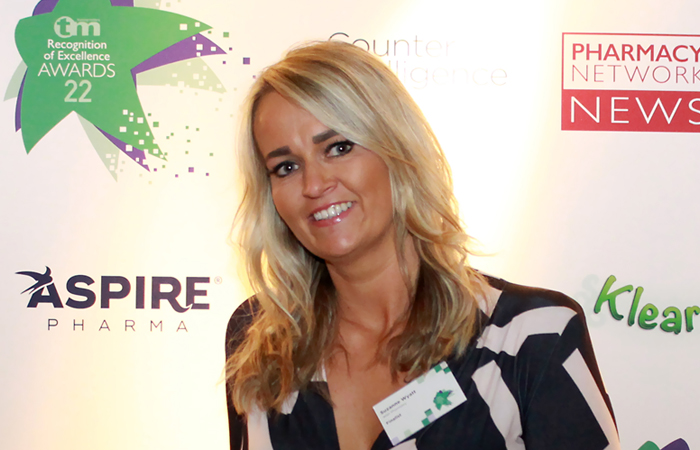 A care champion
Throughout the pandemic, Suzanne thought about her elderly customers often. "Lots of them are the same age as my gran and I hated to think of them alone. I started ringing them once a week, just to check in on them. I gave some my personal number too, just in case they ever needed anything," she says. "You have no idea what people have gone through and it's always good to treat them with respect and kindness."
And Suzanne certainly sticks to her own advice. One example being when a customer came into the pharmacy appearing very down. Suzanne sat with him and found out that he was having suicidal thoughts. "We spoke for 40 minutes, and I came up with different things he could do for his mental health, like going for a walk and I also printed off some numbers for him to ring, like helplines. With his permission, I phoned his doctor as he was already on anti-depressants, but I said I think he needs to be reassessed and needs more support. Later that evening I rang his house just to check he was okay.
"The girls say it's because I've got a big heart, but I think it's just because I've got a knack for being able to tell when someone's struggling." And this was evident with the judges. "She makes time for everyone and knows how even a few minutes of chat can be a game-changer to a patient," says Janice Perkins, chair of the RSP Community Pharmacy Expert Advisory Group. "She also follows up after an intervention to make sure patients are OK, which is an amazing commitment. Being kind is a fundamental part of Suzanne's ethos and makes her the person she is."
Sponsored
Sponsored education
Bust the myths around acne causes so you can recommend effective products and self-care advice
Sponsored education
With research suggesting a possible link between COVID-19 and EPs, make sure you're confident discussing EPs and their treatment with customers
Record my learning outcomes
Recognition of Excellence Awards 2022