As we head into the winter months it's important to pay attention to the health of our elderly communities, especially since they are a growing part of the population.
Like many other countries, the UK's age structure is shifting towards older ages as a result of the combination of declining fertility rates and people living longer. Indeed, Government data predicts that by 2050 one in four people in the UK will be aged 65 years and over – an increase from approximately one in five in 2019.
But it's not all good news. According to The Centre for Better Ageing's The State of Ageing 2022 report, life expectancy has fallen for both men and women in England, largely as a result of the pandemic, and the number of years that people are living with illness and disability is increasing.
Pharmacy encouragement
Worryingly, The Centre for Better Ageing's report also shows that the proportion of people who are physically inactive increases sharply with age, particularly after the age of 55, and while the proportion of people who are overweight or obese has increased in every age group (since 1993) the largest increase is among people aged 75 and over.
On the plus side, since the local pharmacy is often closer to older people's homes and easier to get to than their GP surgery, pharmacy teams are a really valuable first port of call when it comes to encouraging elderly people to look after their health.
"Community pharmacy staff can play a crucial role in encouraging elderly people to keep physically, mentally, and socially active by spreading awareness through educational materials, pamphlets, or posters in the pharmacy that highlight the importance of staying active in old age," says Jacquie Lee, Numark information pharmacist. "This could include information on simple exercises or physical activities suitable for the elderly, such as walking, chair exercises, or balance exercises."
Mental benefits
Besides the benefits for physical health, exercising and staying active is also good for mental health, and a new Thriving with Nature guide from the World Wildlife Fund and the Mental Health Foundation says exercising in green spaces can have an extra added benefit.
According to the guide, multiple studies have found a link between access to green space such as fields, forests, parks and gardens, and a reduced risk of mental health problems, improved mood, and increased life satisfaction, alongside other benefits including reduced stress, increased physical activity, and better physical health. Walking or running seems to give an extra boost when done in natural environments rather than indoors, reducing feelings of anger, fatigue and sadness, and it doesn't even need to be done for long – exercising in green spaces for as little as five minutes was found to improve mood and feelings of self-esteem.
Having strong, healthy and supportive relationships with other people is also important for wellbeing, and nature has a link with these relationships as people often use green spaces to meet and socialise with others. This gives pharmacy teams the opportunity to signpost older customers to local community groups, social clubs, volunteering opportunities, or community events.
Of course, not everyone wants to – or is able to – get up and about for their mental stimulation, so Jacquie says: "Staff can recommend brain exercises or puzzles to help maintain cognitive function such as reading, crossword puzzles, Sudoku, or brain-training apps."
For those who are digitally savvy, the good news is that internet usage could help protect against dementia, according to new research published in the Journal of the American Geriatrics Society. A study of 18,154 dementia-free adults aged 50-64.9 years found that regular internet usage was associated with approximately half the risk of dementia compared with non-regular usage, regardless of educational attainment, race, ethnicity, sex, and generation, with researcher Dr Virginia W. Chang of New York University saying: "Online engagement may help to develop and maintain cognitive reserve, which can in turn compensate for brain aging and reduce the risk of dementia."
Tackling loneliness
While everyone can feel lonely at times, some experiences of older age may make it more likely, such as retirement, bereavement, health problems or living alone.
Charity Independent Age offers lots of tips to help older people feel more connected. For example, pharmacy staff may know that an older customer has suffered a bereavement and could suggest they reach out to family, friends or neighbours for a chat. If it seems like they'd rather talk to someone who isn't close to them, there are organisations that can help. Age UK has a befriending scheme that can organise chats with someone regularly over the phone or face-to-face, and charity The Silver Line has a free helpline providing emotional support and advice to older people.
In more desperate circumstance, Jacquie says elderly patients should be encouraged to "speak to a mental health professional as loneliness leads to feelings of depression or anxiety".
Fending off flu
Flu is such a common winter ailment that many people mistakenly believe that it isn't something to worry about, but it comes with increased risks for older people. Immune systems decline with age which puts older adults at higher risk of serious flu and flu-related complications, including pneumonia and hospitalisation.
Since community pharmacies have become one of the central service providers for the annual seasonal flu and Covid vaccinations, pharmacy teams can remind customers that as well as offering them flu jabs in the pharmacy, pharmacists can also administer them at a patient's home or care home setting to improve the accessibility of vaccination to those housebound.
"All people over 65 years of age are eligible for a free flu vaccination funded by the NHS," says Jacquie, "and as elderly people are more susceptible to the flu virus it is important to encourage vaccination amongst this population. The vaccine used for this age group is the Adjuvanted Quadrivalent Influenza Vaccine (aQIV) which has an added ingredient to boost the immunological response to the vaccine as peoples' immune systems weaken with age."
Seasonal vaccinations – recommendations for older people
All adults aged 65 years and over will be offered a Covid booster vaccine this winter, and The Joint Committee on Vaccination and Immunisation (JCVI) also advises primary course vaccinations should be offered to individuals in the above cohorts who have not had any previous doses. They should receive a single dose of the Covid vaccine during the campaign period.
All adults aged 65 years and over will also be offered a free flu vaccination, with anyone who turns 65 years by 31 March 2024 eligible for both vaccinations.
Shingles protection
Shingles (herpes zoster) is a viral infection that affects sensory nerves and the skin surface served by those nerves (the dermatomes). It is a reactivation of a previous chickenpox infection and is more likely to occur in older people, predominantly affecting those over 70 years of age.
Early diagnosis and prompt treatment with aciclovir can reduce the severity and duration of shingles, but actively encouraging eligible patients to have the shingles vaccine is a key public health intervention.
From September 2023 the provision of shingles vaccine by the NHS will change, with the Shingrix two-dose vaccine replacing Zostavax for all patient cohorts. Shingrix can be safely given at the same time as the influenza vaccine.
Check out the latest Training Matters CPD module on the management of shingles.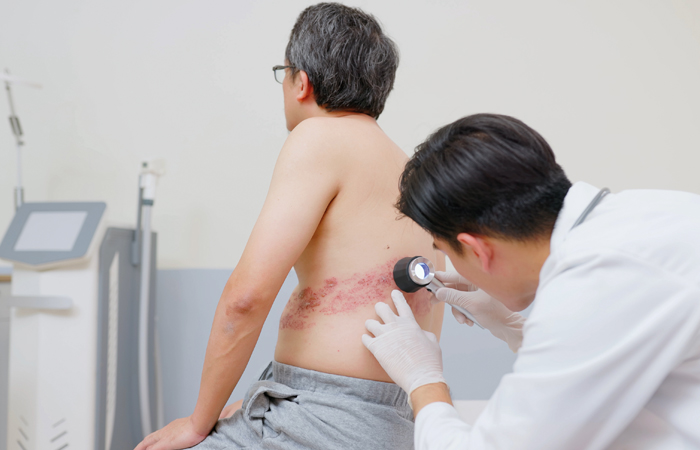 "All adults aged 65 years and over will be offered a Covid booster vaccine this winter"
Fall prevention
Expert advice from pharmacy teams doesn't just stop with encouraging older people to stay active, as there are some more specific health topics that elderly customers need to pay attention to.
Falls are a particular problem, with unaddressed fall hazards in the home estimated to cost the NHS in England around £435 million, according to the Government's Office for Health Improvement and Disparities.
"Staff can increase awareness of falls and promote prevention measures to reduce their incidence," says Jacquie. "For example, during dispensing a medication which is known to cause the adverse reaction of postural hypotension, elderly patients should be advised to take the first dose at bedtime and possibly keep to this regular time if appropriate, and advice on recommended footwear can also help. Shoes that fit well protect and support the feet and can preserve and improve balance and stability, and teams can also discuss regular eye exams to maintain good vision, as poor eyesight can contribute to falls."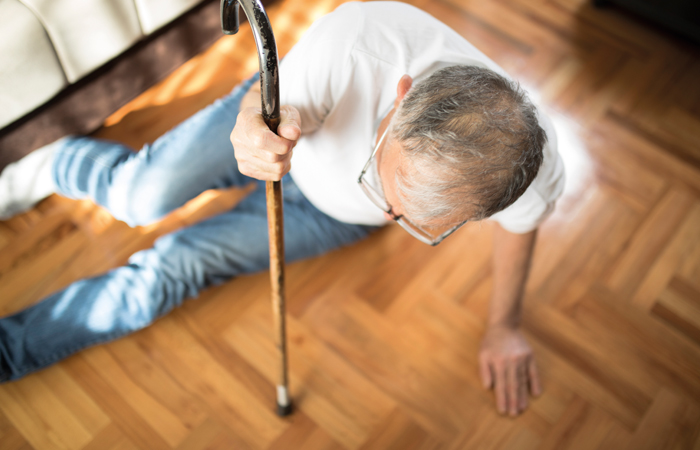 Seasonal Affective Disorder (SAD)
A less well-known winter health challenge is Seasonal Affective Disorder (SAD), which is thought to be linked to less exposure to sunlight in the winter months.
"It's not unusual for older people to notice symptoms for the first time if they start to spend more time indoors due to health or mobility problems," says Jacquie, "so pharmacy staff should educate themselves on the signs and symptoms as well as strategies that can help, which include cognitive behavioural therapy and light box treatments."
"Age UK has lots of information on staying well during the winter months," says Caroline Abrahams, charity director at Age UK, "and it may be helpful to have some of this information on hand to support older people. For example, our Winter wrapped up guide can help people feel more ready and able to deal with winter and also lists useful organisations that offer further support when preparing for cold weather and darker days."
Winter can be a darker time for many people, not just because of the shorter hours of daylight, but with the right advice and support, pharmacy teams can make sure they are a bright spot in their older customers' lives.
Incontinence and urinary tract infections
When it comes to incontinence there can be stigma attached and many people may not want to talk about it, but there are signs that pharmacy teams can spot that help start tactful conversations. "Staff may notice that the elderly patient is purchasing sanitary protection or incontinence products and may feel it appropriate to ask if the patient needs any further advice in a comfortable and confidential environment," says Jacquie Lee, Numark information pharmacist.
"Being aware of what makes someone more likely to have incontinence can be helpful," says Caroline Abrahams, charity director at Age UK. "For example, for older people it may be certain medications they are on."
Community pharmacies stock a range of incontinence products that are suitable for both men and women, and OTC skin care products to prevent skin irritation and infection due to incontinence. If someone is seeking more information on incontinence Caroline says pharmacy staff can:
Signpost to existing information such as NHS information
Refer to the pharmacist for a review of existing medications that can impact bladder function
Discuss different products to support someone experiencing incontinence.
Older people are particularly at risk of UTIs and more significant associated problems, so this is another issue for pharmacy teams to help customers tackle and treat early.
"Older people are more susceptible to UTIs due to a weaker flow of urine, meaning the bladder doesn't fully empty," explains Jacquie. "In men, an enlarged prostate can also make it difficult to empty the bladder completely, which can lead to bacteria building up in the urine and bladder, and pharmacy staff should be able to recognise some of the more susceptible male patients from their regular medications."
UTIs in older people also present with some slightly different symptoms, particularly for those living with dementia or problems with memory, learning or concentration. Caroline says these can include:
Delirium: changes in behaviour, confusion or agitation
Wetting themselves more than usual
Rigors: shaking or shivering that is not usually present.
Many pharmacists are able to treat UTIs with antibiotics or appropriate pain relief, with some pharmacies offering a private service to provide UTI antibiotics under a PGD or by independent prescribing. There are also various OTC products that can help maintain bladder health and prevent UTI recurrence, with Jacquie recommending "cranberry and D-mannose supplements".